First graduates from Oprah's $40m school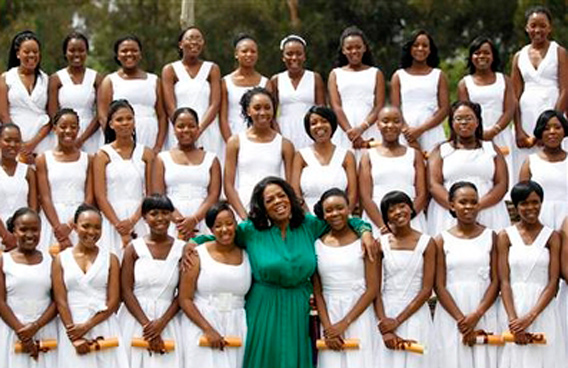 Talk show host Oprah Winfrey proudly saw the first class of girls from disadvantaged backgrounds graduate on Saturday from her $40 million school in South Africa.

The Oprah Winfrey Leadership Academy for Girl celebrated the graduation of 72 girls. Wearing white dresses, the girls were cheered on by their families.

"The pride that I feel today is overpowering," Winfrey said at the graduation. "I have been on a mission my whole life to be able to give back what I have been given. Today I am fulfilling that mission."

"This class will prove that when you invest in the leadership of girls, you invest in a nation," said Winfrey, who herself emerged from childhood poverty to become one of the most influential women on American television.

The facility opened to much fanfare in 2007 with former South African President Nelson Mandela on hand along with U.S. celebrities including singer Tina Turner, filmmaker Spike Lee and comedian Chris Rock.

The graduation celebration, attended by Mandela's wife Graca Machel, was a rarity for the country's high schools.

"I'm very glad. I'm very happy. I feel blessed, you know. The girls look like angels," said a grandmother of one of the graduates.

Winfrey said, however, that if she had to do it over again she would not build a school from scratch, after a series of cost overruns drove up prices for the campus located about an hour's drive south of Johannesburg.

The school admits girls who show leadership qualities, have strong grades and come from poor families. Its facilities include a middle and upper school, state of the art laboratories, classrooms, a yoga studio and beauty salon.

"There are a lot of people, liberals, who lower their expectations and think that if you come from a disadvantaged background ... you have a disadvantaged brain. I know that is not true," the American entertainer told Reuters this week.

Winfrey's school was rocked when a matron was arrested about four years ago for suspected sexual abuse of students. She was later acquitted.

The school was among a handful in the country where all of the students passed a high-school graduation exam. All of its graduates will enter university, mostly in South Africa but with some going to the United States.

Despite a heavy investment in education since the end of apartheid in 1994, South Africa's overall system fares poorly, with thousands of schools still lacking basics such as books, desks, electricity and running water.

Most girls who enter the school system do not finish, and only about a quarter of all graduates do well enough on exams to qualify for entry to university.

"I was tested. We all were tested," Winfrey said, adding that now she is "a proud, proud momma."
Follow Emirates 24|7 on Google News.