First picture: Shakira & Gerard Pique show son Milan to the world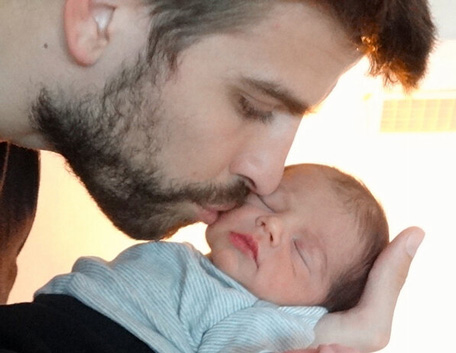 Shakira and Gerard Pique have shared their first photograph of son Milan on their UNICEF website, where they are asking fans to donate money to the children's charity.

The couple were overjoyed to welcome the baby into the world two weeks ago and have chosen to debut an adorable snap of Gerard kissing Milan on their UNICEF website, where the children's charity is accepting donations in celebration of his arrival.

Shakira and Gerard wrote on the site: ""We hope that, in his name, other less privileged children in the world can have their basic needs covered through gifts and donations. Thank you for sharing this unforgettable moment with us."

The 35-year-old singer was previously said to be in "excellent health" and she and her 26-year-old FC Barcelona star boyfriend said they were very "happy" following their baby boy's arrival.

A message on Shakira's official website said: "We are happy to announce the birth of Milan Pique Mebarak, son of Shakira Mebarak and Gerard Pique, born January 22nd at 9:36pm, in Barcelona, Spain.

"The name Milan (pronounced MEE-lahn), means dear, loving and gracious in Slavic; in Ancient Roman, eager and laborious; and in Sanskrit, unification.

"Just like his father, baby Milan became a member of FC Barcelona at birth.

"The hospital confirmed that the couple's first child weighed approximately 6lbs. 6 ounces, and that both mother and child are in excellent health."
Follow Emirates 24|7 on Google News.