Floyd Mayweather's clowning glory - Justin Bieber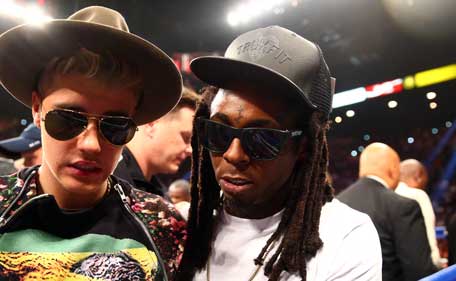 Floyd Mayweather Jr was on the Money with his entrance routine, pushing the envelope towards the bizarre, as much as the outrageous.
But as the commentator remarked, if anyone can pull that off, it is Mayweather. And pull it off he did.
Circus artistes walked in first, clown and all, and just when you though the 'Money' was going to go all Moulin Rouge on the MGM Arena, the crackling rasp of Lil Wayne burst out and out walked the man, with, Justin Bieber.
Yes, Justin Bieber. And the circus theme seemed complete.
If Bieber was punching above his weight in the entourage he did his best to hide the bemusement.
He threw a smile, which if you're walking with Mayweather (or any boxer to the ring) you do not do. Throw a smirk; a grin; but never a smile.
Floyd Mayweather Jr., center left, is joined by Justin Bieber as he enters the area for his WBC-WBA welterweight title boxing fight against Marcos Maidana Saturday, May 3, 2014, in Las Vegas. (AP)
In fact this picture shows you exactly what we mean. The art of smiling like you can destroy someone… was Mayweather does; the smile of a killer.
And then there's Bieber. Bad boy? Not with that smile.
It was all hustle, hustle, hustle though as Marcos Maidana made Mayweather work really hard for his win.
Bieber got the easy part. Walk in as part of the circus… walk out. Something Selena Gomez only knows him too well for doing.
Follow Emirates 24|7 on Google News.