Flydubai female staffer is new star of Malayalam cinema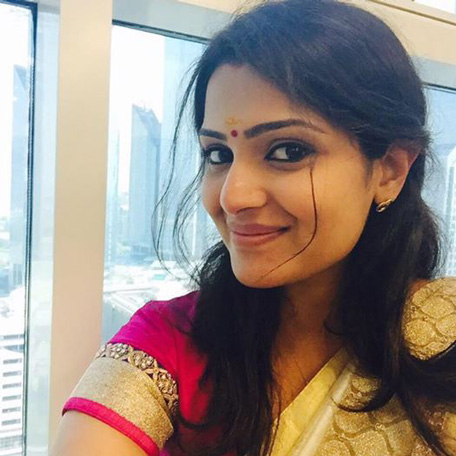 Dubai is the land of oppurtunities but for resident Divya Pillai, who is an administration assistant with Fly Dubai, life took a new twist in India to instant stardom thanks to her childhood friend.
Divya and Ria Mithun have been friends for 11 years, studing together in Indian High School, Dubai and their families live in Karama and Satwa respectively.

While many youngsters try to enter the fiercely competitive film industry through various connections - relationship with producers and politicians, superstar recommendations, reality shows, for this Fly Dubai staffer the golden moment in life came quite accidentally when she attended a celebrity wedding.
Her friend got married to the brother of a leading film actress and her presence at the wedding reception was noted by a film director who spotted her for an important role.
Romantic comedy 'Ayaal Njaan Alla', (That man is not me) is directed by actor-turned-director Vineeth Kumar revolves around an expatriate Keralite who is doing business in Gujarat.
Lead role is played by Fahad Fazil.

Divya, now a budding heroine of Malayalam film industry recalls, "I attended the wedding reception at the IMA Hall Ernakulam with my family. The bride was crying when she was going with her husband and I too cried. However, for a moment I thought I should change her and tried to smile and encouraged her to smile. The videographer caught this emotional moment and the scene was highlighted. That actually changed my life."
"I did not have much interest in movies but when my friend asked me whether I am ready to act in a lead role in a new movie with Fahad Fazil in a double role, it was an opportunity that I could not resist. I got a new opportunity in life to do something different. I send a few video clips. I did not even know where to go for a photo shoot in Dubai," Divya.
"My role in the movie is a notable one and I did not have more than 20 days to spare for shootings in Bangalore. I travelled over five weekends to complete the shootings.
"I did not watch the movie yet, but my friends and family members have watched the movie multiple times and send me encouraging reviews.
"I am waiting for the movie to be released in Dubai and all my friends and colleagues including my British husband are keen to watch it.
"Dubai is a wonderful city and even though I spend six years in India for my higher studies, I considered it as my second home. Now I am busy with my job in Flydubai, and I had to really work hard to improve my career.
"I don't want to leave my job and devote full time into movies, though there are new offers. Now that I got a foothold in the Malayalam film industry, will try to juggle between my job and acting," she said.

Follow Emirates 24|7 on Google News.