Freida, Nargis on 'Koffee With Karan': Who said no to Shah Rukh and who will marry Uday Chopra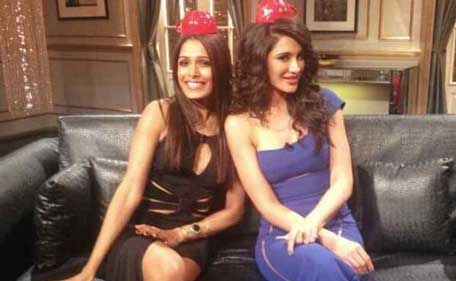 It was touted as the most controversial talk show episode of 'Koffee With Karan' [for Indian television standards at least] and Freida Pinto and Nargis Fakhri did not disappoint with some laugh out loud candidness and some saucy replies to host Karan Johar's innuendo-filled questions.

Switched to a late night slot of 11pm in India, the hour-long revelation set the heat quotient on high with both Nargis and Freida turning the host into a blubbering mess at one point as they openly discussed bedroom secrets and actors and actresses they would happily share intimacy with.

However, the show was not just all laugh and no substance, with both actresses making some interesting confessions, including Freida turning down a Shah Rukh Khan film, while Nargis claiming that she would pick rumoured beau Uday Chopra to marry, during the rapid fire segment of the talk show.

Here are our top five moments from one of the most entertaining 'Koffee With Karan' episodes this season.


Freida shows she's happy in her skin

When Karan quizzes Freida if she would write her own matrimonial ad, what would it say?

The Hollywood actress promptly replied that it would say 'willing to marry anybody' who wasn't looking for a fair, light-eyed woman with no experience.

In fact, Freida went further and batted at her body type in good humour, saying that her countenance was often frowned down on during her modelling days, before 'Slumdog Millionaire' came into her life.

So much so, that one director actually told her she would need to enhance her assets if she wanted to be an actress.

Nargis, a pole dancer, and Deepika Padukone If Freida impressed with her candour, Nargis did with her wicked sense of humour.

First she named Priyanka Chopra as a woman she would likely be with at gunpoint.

But it was Deepika Padukone who rated high in the hotness factor with both, Nargis and Freida.

While the latter said she wouldn't want Deepika near her boyfriend, actor Dev Patel, Nargis talked at length about pole dancing and wouldn't mind the leggy lass who is allegedly dating Ranveer Singh, to join in the action along with Freida.

Coincidentally, Freida's last turn in the spotlight was that of a pole dancer in Bruno Mars' music video, 'Gorilla'.

When Freida said no to Shah Rukh Khan

Not long before director Danny Boyle agreed upon Freida as the female lead in his Oscar-winning film, 'Slumdog Millionaire', the actress had been shortlisted as one of the hockey players in Yash Raj Films' 'Chak De India!'.

Freida admitted that she had even started training for the Shah Rukh Khan starrer when she got the call for 'Slumdog'.

The choice was a no-brainer.

'I will marry Uday'

Okay, so we admit the question was a leading one, but Nargis finally did let the cat out of a bag, albeit slightly, when she finally fanned the flames of the rumour that she is in fact dating Uday Chopra.

Having been spotted socially at events, flirting on Twitter and even a beach holiday together, Karan finally asked Nargis in a case of 'Kill, marry or hook up?', who would she choose amongst Uday Chopra, Ranbir Kapoor, John Abraham.

To this Nargis replied: "I would kill to see John and Ranbir hook up and marry Uday!"

Ranbir a 'gossip queen', with a Kat-fight in the making Everyone's [read Karan's] favourite star couple, Ranbir Kapoor and Katrina Kaif, were discussed yet again and should earn a special award by now for playing the invisible characters on most episodes of this season.

While Karan quizzed Freida, she admitted she would love to do a 'Sheila Ki Jawaani' item song if only to start a Kat-fight.

Meanwhile, Nargis called her first co-star Ranbir a mama's boy and a gossip queen.
Follow Emirates 24|7 on Google News.