Freida Pinto finally gives in to Bollywood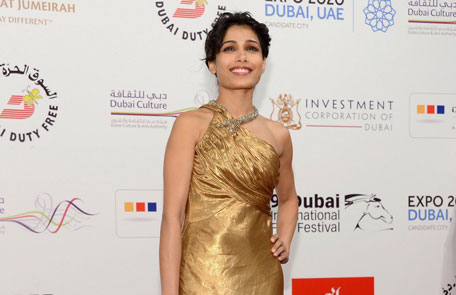 So, after voicing her distaste of the overdramatic in Hindi cinema, 'Slumdog Millionaire' star Freida Pinto appears to have finally given in to Bollywood.
If the Indian media reports are anything to go by, Freida is in talks with 'Udaan' director Vikramaditya Motwane and 'Manorama Six Feet Under' filmmaker Navdeep Singh over a script.

"While her films abroad haven't really worked wonders for her career, she has managed to stay in the spotlight thanks to her immaculate dressing sense and her so-called exotic looks. But this film could change her fortunes," predicts an Indian daily.

"Both Vikram and Navdeep felt that Freida would suit the role. She has liked the script and will take a call soon."
Four years after making her screen debut, with a tiny role in the Oscar-stunner 'Slumdog Millionaire', Freida went on to bag a bevy of plum international projects, and even won many international awards. She had teamed up with James Franco and even worked with Woody Allen.

Yet, she didn't stand out, barring for her immaculate fashion sense and petite body. Even romancing her 'Slumdog Millionaire' co-star Dev Patel didn't help stay in the news.
Through those years, Freida did travel to Mumbai but always expressed her reservation about Bollywood.

"Mindless cinema is not my cup of tea... I could get into trouble for saying that. I don't think Bollywood is only mindless cinema, but a lot of films they churn out are not films that I completely enjoy watching," she had told the Indian Express.

That perception, however, does appear to have changed now.
This isn't the first time that Bollywood has knocked on Freida's doors. Apparently filmmaker Shoojit Sircar had approached her for his upcoming film with John Abraham.

Talking exclusively to Emirates247, noted filmmaker Mahesh Bhatt dismisses Freida's "mindless cinema" reference.
"Hindi cinema has been in existence for over 100 years and have been shaped by thousands of personalities over the years. One more entry will only enrich our industry and will not dry out the talent.
Her decision then to venture into Bollywood shows her changing attitude, he feels.
"Bollywood is not monolith. It has got varies facets. Now she made a choice to come into Bollywood is welcome and I am sure the statement was made in certain scenario."

And, he believes that she will fit in. "She is an actor and I am sure whether it's Hollywood or Bollywood she will be able to adapt herself as an actor and fit in."
With inputs from Ajanta Paul
Follow Emirates 24|7 on Google News.