Gaga lays egg (really!) on Grammys red carpet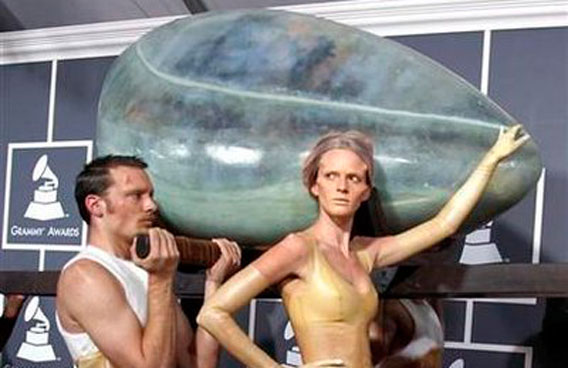 The bleacher fans went gaga over Lady Gaga at Sunday's Grammy Awards, but then how often do you see someone arrive on the red carpet encased in an iridescent egg-shaped container carried by a gaggle of scantily clad men in gold.
"Gaga! Gaga!" the fans shouted as she passed by on her way inside Staples Center, even though it was impossible to tell what she was wearing and her face couldn't be clearly seen.
That wasn't the case with Nicki Minaj. She wore a short leopard print dress by Givenchy with the back of her hair dyed in a matching leopard pattern. The rest of her hair was done up in a towering blond beehive with a dark streak on the front.
"I love when people say, `What was she wearing?' Wouldn't you rather be exciting than boring?" she said.
Cyndi Lauper found herself next to Minaj on the carpet and they compared notes.
"I love the outfit," Lauper said. "I don't have dos and don'ts. This is rock 'n roll, baby, you can do what you like."
Esperanza Spalding did just that. The 26-year-old jazz singer, composer and arranger wore a long green gown that she said reflected her personality.
"Bright, green and many layers," she said.
Follow Emirates 24|7 on Google News.