'Ghostbusters' actor Harold Ramis dies at 69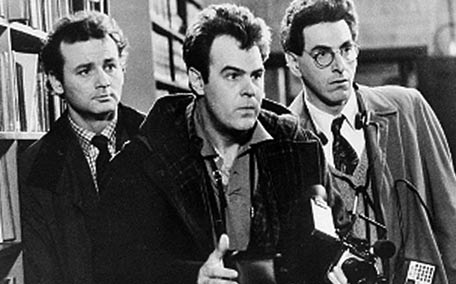 Harold Ramis, the bespectacled "Ghostbusters" sidekick to Bill Murray whose early grounding in live comedy led to such classics as "National Lampoon's Animal House," ''Caddyshack" and "Groundhog Day," died Monday. He was 69.
Ramis, who suffered for several years from an autoimmune disease that caused inflammation and damage to his blood vessels, died at his home in the Chicago suburbs, surrounded by family and friends, his talent agency said.
Perhaps his greatest legacy is his influence on generations of comedians, actors and directors due to his ability to infuse comedy with a broader, sometimes spiritual message, said Andrew Alexander, president and CEO of The Second City. Ramis got his start with the Chicago-based improvisational comedy theater, known for launching future co-stars Dan Aykroyd, John Belushi and Murray to "Saturday Night Live" and then Hollywood.
Harold Ramis laughs as he walks the Red Carpet to celebrate The Second City's 50th anniversary in Chicago. An attorney for Ramis said the actor died Monday morning. (AP)
"There was always a nuanced meaning to his pictures," Alexander said, including an "almost Buddhist philosophy to 'Groundhog Day'" — a movie Ramis co-wrote and directed that tells the story of a man who re-lives the same day over and over as he examines his life.
"He was a generous, nurturing, humble guy," Alexander added.
Aykroyd issued a statement Monday, saying he was "deeply saddened to hear of the passing of my brilliant, gifted, funny friend ... May he now get the answers he was always seeking."
Ramis joined The Second City in 1969, and in 1976 became head writer for the Canadian-based comedy show Second City Television, or SCTV.
He soon moved on to bigger projects — the legendary 1978 blockbuster film "National Lampoon's Animal House," which starred Belushi, who was then starring as an original cast member of "Saturday Night Live."
With Murray, then also starring on "Saturday Night Live," as the comic lead, the Second City alums paired up for numerous projects: Ramis co-wrote 1979's "Meatballs" and co-wrote and directed 1980's "Caddyshack."
But the most well-known of their collaborations was "Ghostbusters," which also features Aykroyd. Ramis helped write the 1984 movie, in which he stars as Egon Spengler, the brainy, commonsense member of a group of parapsychologists who try to catch ghosts.
Harold Ramis, center, along with actors from left, Joe Flaherty, Eugenie Ross-Leming, Judy Morgan, standing, and Jim Belushi break out in laughter as they perform a skit on stage to celebrate The Second City's 50th anniversary in Chicago. (AP)
"The best comedy touches something that's timeless and universal in people," Ramis told The Associated Press in a 2009 story about the 50th anniversary of Second City. "When you hit it right, those things last."
More recently, he directed "Analyze This," starring Billy Crystal and Robert DeNiro.
Ramis was born Nov. 21, 1944 in Chicago. He is survived by his wife, Erica Ramis; sons Julian and Daniel; daughter Violet; and two grandchildren.
Follow Emirates 24|7 on Google News.