Grammy Awards: Chris Brown's car crash, Rihanna gets cozy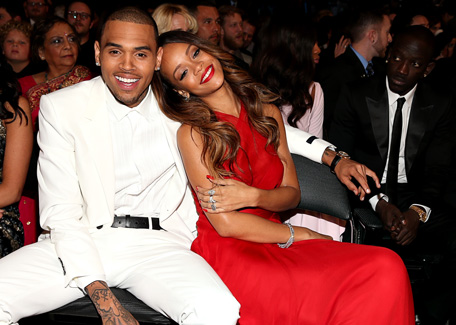 R&B singer Chris Brown showed up smiling at the Grammy Awards show on Sunday, saying he was just a little banged up after crashing his car into a wall on the eve of the annual music industry awards.
Click to see gallery of Grammy Awards 2013: Winners revealed
"Little bit of bumps, I'm good though," Brown, 23, dressed in a white Lanvin suit, told E! News on the red carpet.
Chris Brown and Rihanna attend the 55th Annual GRAMMY Awards at STAPLES Center (GETTY)
Brown crashed his Porsche into a wall in Beverly Hills on Saturday and told police he was trying to elude aggressive paparazzi.
"I'll get another one," Brown, laughing, told E! News on Sunday. "Insurance is good."
"Paparazzi tend to get out of hand. It's all good, though. No injuries," he added.
Chris Brown and Rihanna (GETTY)
Brown's "Fortune" was nominated for best urban contemporary album at Sunday's Grammys, but Frank Ocean walked off with the award.
The crash came almost exactly four years after Brown assaulted his girlfriend, singer Rihanna, the night before the awards show in 2009.
Rihanna and Brown have recently rekindled their relationship, but the pair walked the red carpet separately on Sunday. Rihanna won a Grammy for Best Short Form Video for her hit "We Found Love" and performed during the awards show.
Four years ago Chris Brown brutally attacked pop star Rihanna, leaving her bloodied and bruised after a pre-Grammys party.

Sunday night the two cozy up the Barbadian pop star in the front row of the Grammy Awards at the Staples Center.

A wide grin on his face, the notorious star hugged his girlfriend as she leaned lovingly against his shoulder.

And if that weren't enough, Rihanna sparked a storm of online speculation as she took to the stage wearing what appeared to be a diamond 'engagement ring' on her wedding finger.
Brown pleaded guilty in 2009 to beating and punching Rihanna and is still on probation. Last week, a Los Angeles judge ordered a new report on the community service that Brown was told to carry out as part of his sentence after prosecutors alleged that he had cut corners.
Follow Emirates 24|7 on Google News.