Guess what - Katrina Kaif is not engaged to Ranbir Kapoor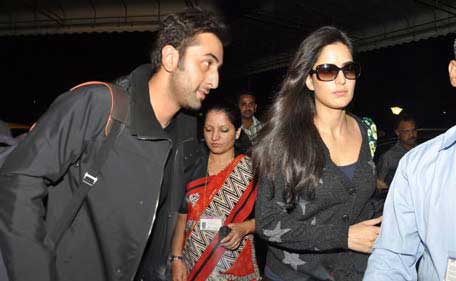 If there's is one couple in Bollywood who has been a constant source of gossip for paparazzi throughout 2014 and continues to do so in 2015 is Ranbir Kapoor and Katrina Kaif.
Almost every week readers are fed with some 'inside information' from 'close associates' about their personal life.
Bollywood supplements/websites owe to this couple for every click their stories generated.
Katrina and Ranbir spawned more gossip in the last couple of years than any other 'alleged' affair in Bollywood.
Even Deepika Padukone-Ranveer Singh's and Anushka Sharma-Virat Kohli's clandestinely operated love-life didn't impress gossip writers.
Whereas Ranbir-Katrina has always kept the media guessing their equation.
And out of thin air articles about holiday trips, birthday gifts, marriage proposal fulfilled gossip mag's appetite.
So when every leading newspaper in India ran speculative news capsule about Ranbir and Katrina's secret engagement, we had our reservations.
When Katrina Kaif was clicked at a recent event with a big rock on her ring finger (rather a tacky one) it was assumed to be 'that' engagement ring.
According to the rumour mills Ranbir and Katrina exchanged rings on 30th December, 2014 in London in the presence of few friends and family members. Ranbir's parents Rishi and Neetu were reportedly also present for the engagement as was Katrina's family.
And guess what - Katrina Kaif is not engaged to Ranbir Kapoor.
Hindustan Times reports that Katrina's spokesperson confirmed there is no truth to these stories.
"This is to clarify that Katrina did not get engaged in a secret ceremony in London. There is absolutely no truth to the rumours," says the spokesperson.
All these speculations for nothing!
Ranbir-Katrina's love life has often been under the spotlight — however, they have always been on denial mode; this seemed to have heightened the couple's misery and speculations never stopped.
And the spinning of stories continued - not that it didn't help Katrina stay in news.
In fact, she can give a master class on how to be a top Bollywood heroine despite language issues and with her not-so-good acting abilities.
For the whole of 2013, neither Ranbir nor Katrina admitted nor denied a romantic involvement. But then did make public appearances together, sending a not-so-subtle message about their special friendship.
Pictures of Ranbir and Katrina holidaying together in Spain were splashed all over. The incident set a lot of tongues wagging and the duo realized there was no good in denying anything anymore, with pictures speaking a 1000 words.
They have moved in together and for Bollywood writers the next obvious step for the couple is getting engaged.
But now that they are not, it only spells good news for paparazzi. Why? There will be another day, another opportunity for journos to write speculative story on their night-out/engagement/wedding.
Follow Emirates 24|7 on Google News.