Gwyneth Paltrow calls ex-husband Chris Martin 'brother'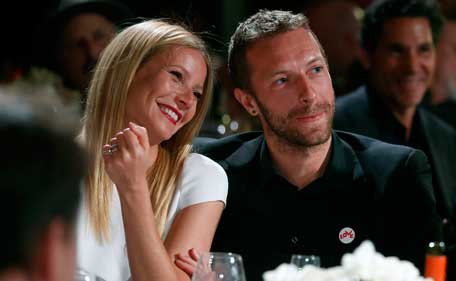 Gwyneth Paltrow has opened up on her relationship with estranged husband Chris Martin.
The actress told Glamour magazine that the Coldplay singer, 38, is now 'like a brother' and that they still sleep over at each other's homes as she posed for the cover of the March issue.
The 'Iron Man 3' actress insists she and her ex-husband - with whom she has daughter Apple, 11, and son Moses, nine - are still "very much a family" and they frequently stay at one another's houses.
She said: "We spend a lot of time together.
"He's been away for two weeks [promoting his album]. Last night he got in at midnight and slept here so he could surprise the kids in the morning, we could all have breakfast, and he could take them to school.
"So ... we're not living together, but he's more than welcome to be with us whenever he wants. And vice versa: I sleep in his house in Malibu a lot with the kids.
"We're still very much a family, even though we don't have a romantic relationship. He's like my brother."
The 43-year-old actress is happy in her relationship with TV producer Brad Falchuk but isn't in a rush to marry again.
She told America's Glamour magazine: "I believe in marriage. But I'm not even divorced yet! So give me a minute."
Gwyneth - whose parents are late actor Bruce Paltrow and actress Blythe Danner - is very proud of her children but wishes they weren't "drawn to perform".
She said: "Right now they're in a really good space.
"They're smart, they're funny, they have pretty good heads on their shoulders. We'll see what difficulties come with adolescence and what careers they want.
"Unfortunately, I think they're both gonna be drawn to perform. They're naturals - they sing, act, play guitar, do stand-up - it's brimming out of them.
"So I feel like my mother. Whenever I said I wanted to be an actress, she said, 'Oh no, don't. You're too smart to be an actress. Do something else!' "
Follow Emirates 24|7 on Google News.