Halle Berry 'heartbroken' as she mourns pet dog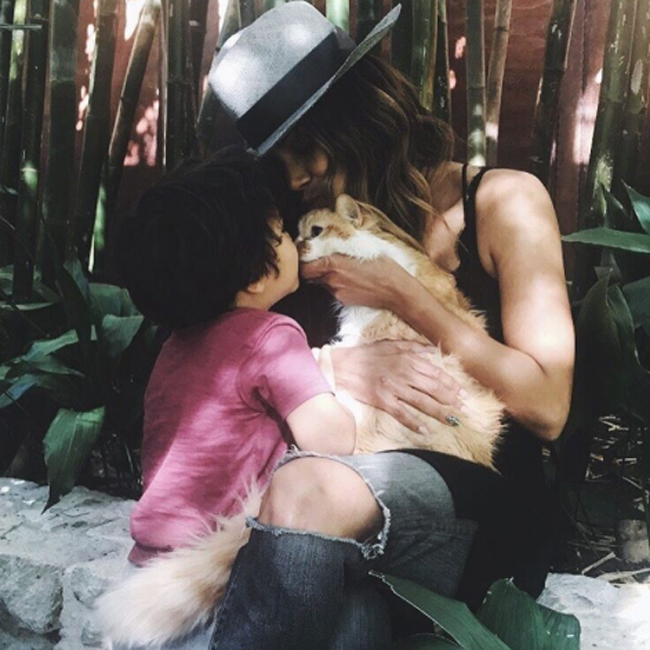 Halle Berry's pet pooch Playdough has been laid to rest after suffering from brain cancer.
The 50-year-old actress has shared with her 1.4 million followers the tragic news that her pooch called Playdough - named after the children's modelling clay - had to be laid to "rest" after suffering with disease.
The former Bond Girl paid a touching tribute to the canine that made it to 16 years old by sharing a story of how her three-year-old son Maceo used to sit on the floor and eat his breakfast cereal alongside Playdough when he was eating his dog food.
The brunette beauty - who has also has eight-year-old daughter Nahla with her former partner Gabriel Aubry - wrote on Instagram alongside a picture of Maceo kissing the pooch: "Yesterday my heart broke as we had to put our beloved Playdough to rest due to brain cancer. This little guy lit up our lives and brought us joy every day for 16 years! While his loss is tough for all of us, especially my children, it's an inevitable part of life. Playdough and Maceo were pals. Every morning they had b'fast together. Playdough his kibble and Maceo his Cheerios... Side by side... On the floor together. The bond my kids shared with Playdough was unique and special and through it, they learned compassion and kindness and the importance of loving and caring for life's sweetest creatures. Yesterday Playdough reminded us all that it's better to have loved and lost than to never have loved at all! We will miss him! (sic)"
The 'Extant' star took home Playdough in 2004 while she was filming 'Catwoman'. She is also looked after 60 cats when she worked on the fantasy film for preparation.
At the time, she said: "I used to be a dog person. I had dogs my whole life. And in making this movie, I learned to really respect and love cats from the research and work I did with them."
Follow Emirates 24|7 on Google News.