Happy Birthday Zayn Malik: 7 times singer broke the internet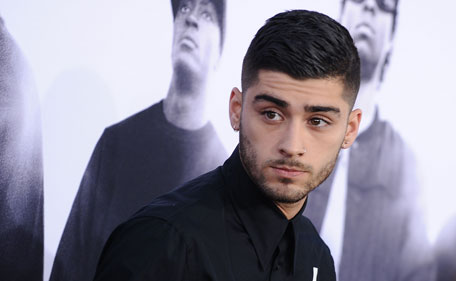 Oh, Zayn Malik. You enigma, you.
These days, former One Direction member Zayn Malik's prowess for keeping the media hanging on his every tweet, Insta pic and record-contract signing knows no bounds.
The Bradford-boy has been a newsmaker all of 2015 and 2016 seems no different.
As the 23-year-old singer celebrates his birthday today we take a look at what's been keeping Zayn busy.
Bang
Flirtatious Zayn
In March 2015 fiancee Perrie Edwards of Little Mix was pictured without her engagement ring and claimed it was because it was at the cleaners.
A couple of weeks later, Zayn publicly apologised when he was pictured with his arm around Lauren Richardson during an all-night party in Bangkok, saying "sorry for how it looks" and tweeted about his love for Perrie.
Zayn left One Direction's 'On The Road Again' tour prematurely - abandoning band mates Harry, Louis, Niall and Liam - when he was accused of cheating on his girlfriend.
Happier days/Getty
Quits One Direction
After that incident a spokesperson for the band initially said: 'Zayn has signed off with stress and is flying back to the UK to recuperate. The band wish him well and will continue with their performances in Manila and Jakarta.'
But Zayn sensationally quit the band on March 25 saying he wanted to be a 'normal 22-year-old.'
He explained why he left the fivesome when he released a statement: "I am leaving because I want to be a normal 22-year-old who is able to relax and have some private time out of the spotlight," he wrote.
He left, just like that, breaking the band, breaking millions of heart and breaking the internet.
Twitter/ShahRukhKhan
Meets Shah Rukh Khan
Bollywood superstar Shah Rukh Khan and former One Direction star Zayn Malik were honoured at the fifth Asian Awards held at London's posh Grosvenor hotel.
Zayn Malik, who made his first public appearance after his controversial exit from One Direction, was presented with the award for Outstanding Contribution to Music.
They found time for a quick selfie at the dinner held after the ceremony. SRK tweeted this selfie with Zayn Malik which saw a record number of retweets.
Both SRK and Zayn, with over 27 million Twitter followers combined kept the Twitter trend buzzing.
Combined pic of Zayn and Louis Tomlinson/Getty
Fights with bandmates on Twitter
Zayn Malik and Louis Tomlinson fought it out on Twitter after Louis took a not-so-subtle dig over Naughty Boy's studio photo with his former bandmate today.
Zayn tweeted: "remember when you had a life and stopped making bitchy comments about mine?"
Louis appeared to amuse himself by taking a not-so-subtle dig at the heavily edited shot of Zayn and Naughty Boy.
"Remember when you were 12 and you used to think those Mac filters for your pictures were cool haha ! Some people still do HA!" Louis tweeted.
And then Naughty Boy joined in: "and some people can't even sing.. but who's complaining when there's auto tune eh".
Record-contract
Zayn Malik revealed on July 29 the 'real' reason he left One Direction back in March 2015. The singer shared a picture of him signing a contract with RCA, writing, "I guess I never explained why I left, it was for this moment to be given the opportunity to show you who i really am!"
That was the moment Zayn had officially gone solo and is signed with RCA Records.
Instagram/Perrie
Breaking up with Perrie
In August Zayn Malik ended his engagement with Perrie Edwards.
The former One Direction member reportedly called time on the relationship, nearly two years after he got engaged to the Little Mix star in August 2013 and four years of being together.
The 22-year-old singer sparked speculation she was no longer engaged to Zayn when her bandmate Jesy Nelson uploaded a picture to Instagram with her engagement ring visibly absent.
It was rumoured that Zayn dumped her via text message.
Instagram: Zayn Malik
Dating Gigi
They've made their relationship official via Instagram.
Zayn has been spotted on a string of dates with the 20-year-old model Gigi Hadid in recent weeks, and he is said to be infatuated with her.
Now it seems as though Gigi and Zayn might be taking an even bigger step as a couple: moving in together.
The New York Post reports that the supermodel brought her beau with her to check out an apartment in downtown Manhattan.
Follow Emirates 24|7 on Google News.