Harry Styles would rather be gunged than face his ex-girlfriends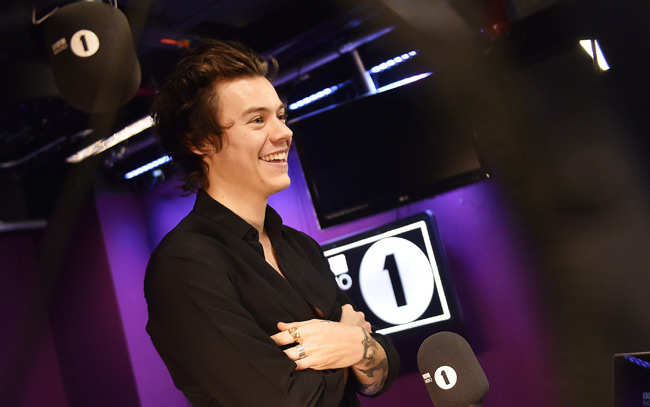 Musician Harry Styles has admitted he would rather be gunged than be in a room with his exes.
The 23-year-old singer - who has previously dated the likes of Taylor Swift, Kendall Jenner and Caroline Flack - revealed during an extended interview with showbiz pal Nick Grimshaw on BBC Radio 1 that he'd prefer to be covered in green slime than be confronted by his exes.
The confession came after the radio DJ asked: "Did you think we'd do something weird like bring all your exes in?"
To which Harry replied: "I think I'd take the gunge."
Despite his reputation as a ladies' man, the dark-haired hunk revealed he hasn't dated anyone in "a long time" because he's been busy filming the war movie 'Dunkirk' and making his first album as a solo artist.
Harry shared: "I haven't dated in a long time really because I went away to do the movie then did the album so I haven't in a while. I have a couple of candles left still, though."
Harry also opened up on his best and worst dating habits, admitting he snores during his sleep, while he described his four nipples - two of which are, in fact, just dark marks on his chest - as being his best trait.
Harry, who first rose to fame as a member of One Direction, said: "I think I snore and also I quite like routine, so I don't know if I'm incredibly spontaneous. Best trait ... I don't know, it's weird to pick your best. Shall we go with the nipples thing."
The star also suggested dating as a celebrity is barely any different to dating as a regular person, reasoning that the popularity of apps like Tinder has ensured everyone already knows everything about their would-be date.
Asked if it's hard to date as a celebrity, Harry explained: "I don't know, maybe. I feel like with all of the stuff how people date now with all online stuff I feel like you can do that (Google) with anyone really if you're looking at someone's profile before seeing them it's kinda the same...
"No, I used to (research dates), then I said I'm not going to do that anymore, it's impossible to go in without a perception of someone and you've never met them and I started feeling like that was wrong and weird."
Hear the full co-host and world premiere of Harry's debut single 8am tomorrow on the Radio 1 Breakfast Show.
Follow Emirates 24|7 on Google News.