Has Salman Khan lost it? Jokes in bad taste not funny anymore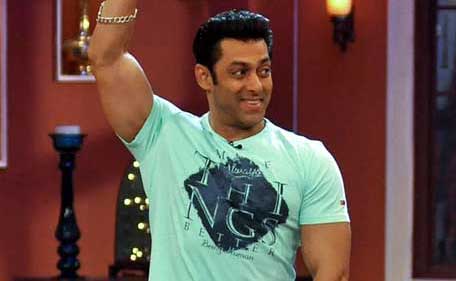 There was a time when Bollywood actor Salman Khan avoided media. And when he did interact, he was blunt, to the point and mostly angry. In general he thought media was after his life!
But some key members of the media will swear that he was good fun. He is indeed good fun, but then sometimes he is caught off guard and the faux pas with his deadpan jokes are getting legendary.
These days the number of slip-ups is on the rise.

No match at all
It was the 'Jai Ho' press conference meet in January. This was the first big press conference of a superstar in a single screen as opposed to those large multiplex screenings of trailer launches.
The film's makers were sure that the film was for the single screens and producer Sunil Lulla of Eros International was also present.
When Sunil mentioned that 'Jai Ho' would complete a hat-trick of hits for Eros after they had given movies like Sanjay Leela Bhansali's 'Ram-Leela' and Prabhu Dheva's 'R... Rajkumar', Salman was irked and tried a funny take, "Are you going to compare my film to these?" he quipped. What happened to 'Jai Ho' is history!

Calling Katrina Bhabhi (sister-in-law)
More importantly at this very event when a journalist mentioned that Kareena Kapoor had called Katrina Kaif (his ex-girlfriend) her Bhabhi (sister-in-law) and invited a reaction from Salman Khan, he replied that Kareena's sister In Law, is my sister in law."
And then he lost it, snapping at the journo who dared ask him the question.

Rebuffing Mithoon

It was an award function where Salman's silly sense of humour struck again.
He pointed to a piece of paper on Mithoon's backside and the singer-composer replied that it was because of Salman's long speech and a boring evening.
And angry Salman ordered him off stage, "Chal nikal yahan se! (Get lost from here)". And bang came the reply from Mithoon: "You don't scare me, sir," and walked out of the stage.
Salman surely lost some fans from the music industry that night. Never mind that Mithoon will never get to work with Salman or his coterie, ever!

Modi-fication of his film
During the promotions of 'Jai Ho', when Salman Khan went kite flying in Gujarat with India's Prime Ministerial candidate and right wing Hindu leader Narendra Modi he did not foresee the outcome.
His kite fying antics and pro Modi tone led some Muslim leaders calling for the boycott of his film 'Jai Ho'.
The gaffe is being considered a bigger one than killing black bucks.
And despite the fact that Salman turned out a better performance as an actor than most of his other films 'Jai Ho' has only managed less than Rs110 million till date at the box office.

Turning a new Malik!
It was an event where new music talent Armaan Malik's music album was being launched and his entire family was present.
Salman, who feels his sense of humour is very good, messed up.
"Forget about Armaan, work with me," Salman announced that Armaan's uncle Anu Malik (composer) had told him so, but in jest.
He also mentioned that Anu was not too happy when Salman gave Anu's brother Daboo and the father or Armaan Malik a break!
What he said left the family very embarrassed and had Anu Malik been present, he would not have known where to hide. And since he was not there, Salman chuckled again saying, he knew why Anu was not there!

Rahman is average
Oscar winner AR Rahman, politician Kapil Sibal and the organisers must be ruing the decision to invite Salman Khan to launch their music album 'Raunaq'.
Salman, who had a history with Rahman, had the urge to trigger his not so funny sense of humour again.

Rating AR Rahman's music as 'average' at the event seemed to be the worst thing to do even if it was in jest.
Later on he tried his best to recover from the bad joke (if he calls that a joke) and made it worse.
The music maestro's fans have been very angry and Salman, funnily, seems to have lost the plot.
(All Pics: AFP)
Follow Emirates 24|7 on Google News.