Hollywood's Diversity Crisis: 7 facts overlooked in the current furor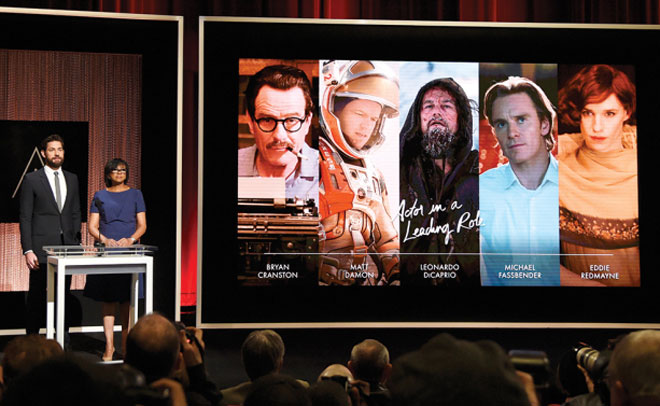 Diversity was the No. 1 topic at Saturday's SAG Awards, and will remain front and center at the DGA, WGA and every other guild's awards through the Feb. 28 Oscars.
It's crucial that this issue be addressed again, and the upside is that Hollywood is under pressure like never before.
But amid this controversy, there's a danger that film execs will continue to do what they've done for decades: Overdose on the protests and the backlash, form a committee and talk even more, rather than take action.
Here are seven reasons for hope and concern about the discussion.
These protests have been going on for decades.
Variety has been reporting on Hollywood's racial imbalance since the 1950s.
The big difference in 2016 is that the media has exploded, so the conversation is louder and more persistent. That's good because it keeps the heat on Hollywood.
But, in many cases, it's fringe people who are speaking up while decision-makers remain silent. And the backlash is out of control.
So the conversation has veered away from the central principle - that films need to reflect the global population - and has focused on details such as black actors and Academy membership rules. A lot of people are weighing in without knowing what they're talking about. The conversation is loud, but it's not necessarily focused.
It's not about the Academy.
Outside observers blame the Academy of Motion Picture Arts & Sciences, whose officials are silently accepting the criticism, refusing to point fingers.
But industry workers know who's responsible: studios, agencies and money men (and, yes, they are usually men).
Movie execs are not racists.
They're just scaredy-cats. When cable TV boomed, TV executives began making adventurous choices, so TV better reflects the range of population. Film execs have gazillions at stake, so they aim for safety by imitating past successes.
(It's the same reason for the flood of franchises, remakes and reboots). They pretend their release slate is diverse because they have greenlit films targeting black audiences (e.g., "Ride Along 2") and women ("How to Be Single"), for
example. But these films are rarely tentpoles or in the "prestige" awards category.
It's not about quotas.
The Internet is filled with an angry backlash of individuals sneering that this is about awards quotas and entitlement. No, it's about accuracy. Since 305 films were eligible for Oscar last year, half should have been directed by women, and at least 90 directed by people of color, if the film biz reflected U.S. Census figures. So awards voters should have dozens of films to weigh, not just a handful.
The frustration is not limited to blacks.
This is a point that needs constant repetition: Hollywood films under-represent huge segments of the global population, including Latinos-Hispanics, Asians, Native Americans, Muslims, individuals with disabilities, LGBT people -- and other groups, like sympathetic Christians and political conservatives. And it's limited to focus on the acting race. The key is to get new voices in front of and behind the camera -- and in the exec offices where decisions are made.
It's about decency and equality - but could also be about business.
In Hollywood, you can't go wrong by appealing to the bottom line. If movie decision-makers don't do the right thing because of principle or fear of embarrassment, they should realize that inclusion is good business. Minorities are a big part of the moviegoing public and want to see themselves represented. If that doesn't happen, these audiences will eventually give up on moviegoing.
Oscar-voting is not a God-given right.
Another protest is running parallel to diversity: New Academy membership rules.
The board of governors bent over backwards for industry vets, allowing them to retain membership and screening access, but stating they might lose the right to vote.
That applies to only a fraction of the 6,261 voters, but we only hear from a few members crying "I worked hard! I'm not bigoted! I need my voting rights!"
But, dear industry veterans, this is not about you. Academy execs are working to repair the organization's reputation and to stay relevant.
They are also trying to set an example for the entire industry. If things go well, this could be a key moment for long-overdue changes within the industry.
There's a lot at stake, so a few hundred voting privileges are not the top priority.
Don't take it personally.
Follow Emirates 24|7 on Google News.