How a Salman Khan and Shah Rukh Khan clash was averted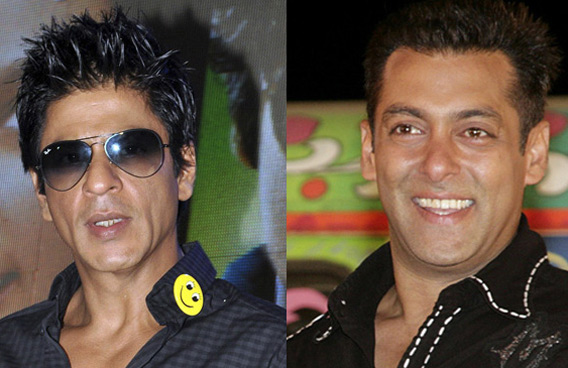 Shah Rukh Khan's bodyguard Ravi and Salman Khan's bodyguard Shera may not necessarily be best of friends because their masters are at war and cannot exchange pleasantries before their bosses, but then they surely collaborated the other day at Mumbai's Mehboob Studios, a stone's distance from both Khan households where both the Khans were at work.

King Khan SRK and Pocket Hercules Salman made news when they met at politician Baba Siddique's Iftar party at Taj Lands End a few months ago. But then they never commented about the incident and now want to avoid such a spectacle again.

It was on the weekend when King Khan was shooting a promo on Floor no 2 for an awards ceremony for Star Screen and Salman Khan was a kick away as he was shooting at Floor No 5 for the annual Being Human Calendar.

Trouble began when both the vanity vans of the stars got parked opposite each other. When Salman Khan walked in customarily late by a few hours at 3 pm, he saw the Shah Rukh van parked and smirked. He asked his staff to ensure that the offending van was moved, but in vain. Meantime SRK walked in at 6 pm and gave a similar expression and a piece of his mind to his staff as well.

Till late evening both the Khans moves out to smoke, and smoked from their ears at each other's presence, but refused to acknowledge the other person.

And then they saw the media and scampered inside. And then it was completely up to the bodyguards to speak to each other consistently to ensure that they would not be seen in the same frame together for the media and came out separately every time.
Follow Emirates 24|7 on Google News.