How long will Katrina Kaif & Ranbir Kapoor hide their relationship?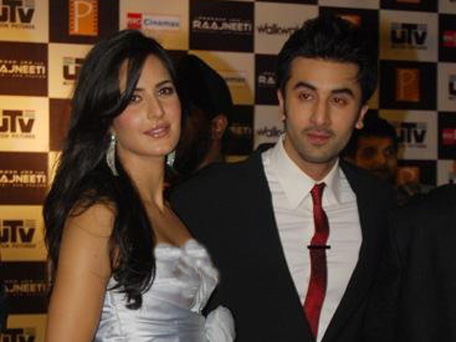 The fact that Bollywood actor Ranbir Kapoor and actress Katrina Kaif are not 'just friends' is loud and clear. Yet the two remain mum, even going to the length of denying all rumours about their relationship.

It's about time they tell the truth, at least now that they have been spotted ringing in New Year together in New York.
But as expected, this fact was ignored as a fragment of our imagination. When the actress returned to Mumbai reporters queried about her New Year celebration and she gestured saying her mother's with her.

Did she mean she would talk about her New Year celebration with Ranbir later or she was with her mother during New Year? Katrina knows how to put things on hold.
Whatever it may be, the couple completely defies the adage 'When you are in love you want to scream from the top'.

Onlookers had spotted the two on the wintry streets of Manhattan walking around together trying to hide their face.
Katrina Kaif who was in London celebrating Christmas with family flew down to New York to spend the New Year's Eve with her 'Ajab Prem Ki Ghazab Kahaani' co-star Ranbir Kapoor.

Fans have spotted the two cuddling on the streets of the Big Apple. Fans also saw them at a Manhattan theatre watching the movie 'Lincoln' which stars Daniel Day-Lewis.
The couple tried their best to blend into the crowd, wrapped in caps, coats and stoles. They later reportedly checked into a five star hotel.

However, a few days ago Ranbir Kapoor returned solo from his trip - making us wonder where Katrina Kaif was.
The actress returned after few days accompanied by her mother.
Ranbir and Katrina have been playing hide and seek with the media for long. Every time they need to spend time alone they sneak out of India taking different flights, seemingly heading to different destinations but end up bumping into each other at the same location. Being abroad perhaps helps them to get the much needed privacy.

We are not ready to buy the same old story "we're just good friends", we believe there's more to their relationship than what they want us to see.
Their wee hour visits to each other's residence when no one is watching also speaks volumes of their so called "friendship".

After long shooting schedules the two hurry up to catch up and spend more time. Now, for some unknown reasons these rendezvous have been bluntly denied by both.
The Ranbir-Katrina rumours started when the two came together in 'Ajab Prem Ki Ghazab Kahaani'. That's when Deepika Padukone broke up with Ranbir alleging disloyalty.
Rumours about actress Nargis Fahkri in his life was not appreciated by Katrina Kaif. Since then their on-off relationship continued.
But Ranbir has got nothing to hide; we are too familiar of his flamboyant nature. He can always take a clue from sister Kareena and how going public about her relationship with now husband Saif Ali Khan only helped her popularity.

Both Katrina and Ranbir are comfortably placed in their career and things can only get better for the two actors.
Their discreet dates, which are no longer so discreet, only strengthen the rumours about their love life.
MUST READ:
BIGG BOSS 6 grand Finale: Salman Khan to dance with Emraan, Yana Gupta
Aishwarya Rai unveils Filmfare's 'gold' trophy
Exclusive Bollywood shoot: Ranbir Kapoor, Shah Rukh Khan, Hrithik Roshan
Follow Emirates 24|7 on Google News.