How to win an Oscar - the tale of promotional blitzkrieg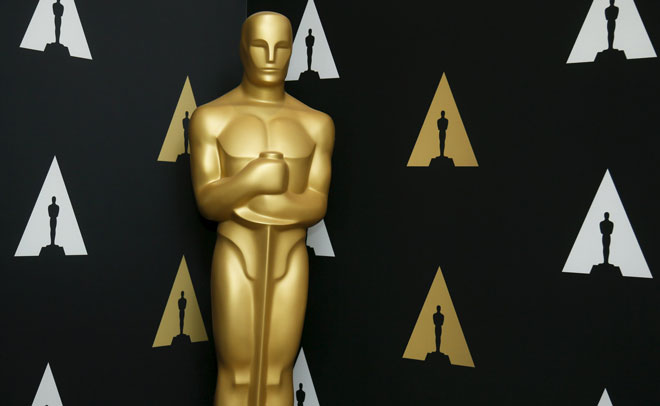 For Hollywood actors and their teams seeking an Oscar, the work of promoting the film can be as exhausting as actually shooting it.
Attention plebes of the world: it hardly sounds grueling but for these people, it means lots of smiling for cameras, posh luncheons, private film viewings and trips here and there.
Bottom line: you have got to charm the Academy of Motion Picture Arts and Sciences.
It can be as tiring as an election campaign. And yes, at all cost, dodge any hint of controversy.
"You just can't sit back and let the movie do the work for you. It's one of the necessary evils of being nominated," said Tom Nunan, executive producer of 'Crash,' which won the Oscar for best movie in 2006.
Indeed, one must get out there and fight for votes.
And that is what actors old and new and their entourages are doing, such as Leonardo DiCaprio, vying for his first ever Oscar for his work in the Old West survival epic 'The Revenant.'
Movie studios have deployed an army of publicists and marketing experts tasked with fashioning the most exhaustive, high-impact strategies.
The studies spend between $3 million and $10 million per movie on making their nominees available at a moment's notice, according to Variety magazine.
Smaller producers have less money to spend, but use social media to plug their candidates.
"Social media can definitely help spread the word, so I think it's an essential tool for any award campaign and regular movie release campaign," said a publicist who declined to be named as the Oscar race is coming to a climax on Sunday.
Schmooze, schmooze, schmooze
The goal is none other than to win over the 6,261 members of the Academy.
The most popular and easiest way to connect with them is to send them a copy of the movie to their home.
Nunan recalls that with 'Crash,' the studio Lionsgate was the first to actually send a disc of the movie to members of the academy. He called this 'a game-changer.'
"People saw the movie and loved it," he told AFP.
But the biggest impact comes from private screenings that feature a question and answer session so members of the academy can get to know actors and others involved in the making of the film.
"It may seem silly, but if you have seen 'Birdman' and liked it, and then you meet Michael Keaton and you like him, when it comes time to vote, you support him," said Alvar Carretero de la Fuente of the PR agency JJPR, citing the film that was the big winner last year.
His company's clients this year include the films 'The Martian' and 'Brooklyn,' both nominated for best picture.
A few days ago, the agency hosted a luncheon in Los Angeles for some 200 academy members to chat with Matt Damon, nominated for the best actor honors in 'The Martian.'
Be everywhere
Actors who are up for a trophy tend to work hard to win over votes, although studios take no chances and pay them to lobby.
But some, such as Daniel Day-Lewis, hardly do any promotion work and win anyway. He has won three Oscars, for 'My left Foot' (1989), 'There Will Be Blood' (2008) and 'Lincoln' (2013).
"All the things that people do never guarantee that you're going to win. You do all these things in the hopes of getting people to watch the movie and, through this kind of events, you hope the voters will talk about it," said a second publicist who requested anonymity.
Actors are bending over backwards to give their movies an extra nudge toward Oscar glory.
They include Eddie Redmayne, Bryan Cranston, Cate Blanchett and Rooney Mara.
But DiCaprio and Brie Larson, nominated for best actress for her role in 'Room,' are doing even more.
Lady Gaga, nominated for the best song in 'The Hunting Ground,' is also anywhere and everywhere.
It is no coincidence that she sang the national anthem at the Super Bowl's halftime show and performed a tribute to the late David Bowie at the Grammys. She was promoting herself.
Follow Emirates 24|7 on Google News.