Hrithik and Deepika have Anaita to thank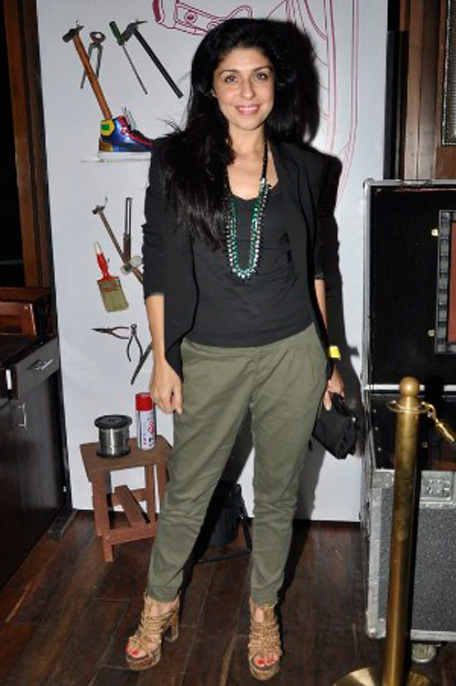 There's never a fashion off-day on Deepika Padukone's calendar, and she's got Anaita Shroff Adajania to thank for that.
Her fashion report card always gets the top marks because of Anaita's meticulous homework.
While some stylists remain exclusive to an actor, some like Anaita pack in as many as her assignments demand.
Her work, which is assignment based, starts with a simple brief, each differing depending on whether it's for the red carpet, movie, TV or film promotion event. A mood board is drawn with suggested looks, which then awaits celeb approval.
Once that's accomplished, she sources the outfits, and plans a fitting session to finetune the look. The hair, make-up and accessories are brainstormed after that.
Anaita Shroff has styled almost every known name in the movie industry. From Katrina Kaif to Hrithik Roshan, to Saif Ali Khan, to Deepika Padukone, her expert hands have dressed them all.
In her 15 years in the movie industry, her magic has spread far and wide. There's the glitzy red carpet affairs, telly ads, promotional events and the movies. In fact, she was recently honoured for creating the look for her husband Homi's movie 'Cocktail'.
Deepika Padukone promote her movie' Race 2' in reality show 'Nach Baliye5'. (Twitter)
Despite having multiple clients, Anaita isn't one to get bogged down. "I live and read fashion most of the time. So, for me, it's not stressful at all. I let my instinct guide me.
"And, with balancing my work at Vogue as the fashion director and as a freelance stylist for films, red carpets and advertising, it's a very natural flow for me. It's something I have been doing my whole life."
Although she deals with multiple stars, she has never been privy of any catfight, at least not over her designs. "That has never happened to me. They've never told me what they want to wear. I provide them the options and they tell me what they like. And, if they like one style more than the other, then they'll share their preference."
Deepika Padukone attends the Zee Cine Awards 2013 ceremony in Mumbai. (AFP)
In fact, she confidently admits that her impeccable style sense has never been turned down by any celeb. "It hasn't happened to me fortunately. I think I am just going to keep my fingers crossed."
For Anaita, celeb styling isn't just about making them look good, but about highlighting the personality of the star. "It's important that their personality is the king. I don't style them as if they were models, or like they should be walking down a runway.
"I feel it's important that who they are comes out in what they wear. And that's why most of the people I style don't look the same."
Hrtithik Roshan launching a new watch for the brand he endorses. (AFP)
While the media can be fickle over matters of fashion, it never bothers Anaita. "Everyone's allowed an opinion. And with the growing number of fashion blogs and stuff, I think it's really sweet when they offer advice. I think advice is very cheap. However, I do hope people realise that when we style celebs we are not attempting to make them look like models."
(AFP)
With her ever increasing clientele, there are bound to be certain dos and don'ts that celebs draw out for her. "Of course, there are personal preferences. Some people think high-necklines don't suit them, while some don't prefer shorter length."
These are things that stylists will know instinctively, she tells us, but "it's also a great tip to get from the celebs we are styling".
MUST READ:
Priyanka gets it right... with Ami Patel's magic
Want Salman Khan to dance at your wedding?
Nach Baliye 5: Shilpa on a break; Rahul returns
Follow Emirates 24|7 on Google News.