Hulk Hogan been to 'hell' with back injuries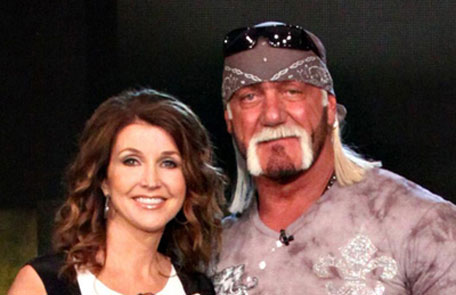 Hulk Hogan has been to "hell and back" with his back injuries.
The wrestling legend underwent a 10-hour operation to rebuild sections of his spine in December and fellow grappling icon Jeff Jarrett - who along with Hogan wrestles for TNA - admits the pain he has been living with has been unbelievable.
Jarrett said: "The guy has been to hell and back with his back pain, his back issues and his injuries. He's had a rough time of it, the last time he was on TV he was in a lot of pain, but everybody is hoping for the best for him."
Hogan - real name Terry Bollea - has been out of action since the procedure and it has been rumoured that he will not step inside the ring again as a performer, but Jarrett insists you should never write off the 57-year-old wrestler.
He added to BANG Showbiz: "One thing I will say is never count that guy out. When he does appear and works the thing that I think is so refreshing and so strong is that we bring our strongest suits to the table and that's been good for business. It's been very, very enjoyable to work with him when he has been able to."
Multi-time world champion Hogan's back problems began in June 2010 when the sportsman underwent surgery for an old wrestling injury and he was hospitalised in September after experiencing unrelated back spasms.
Jarrett and TNA Wrestling's other superstars are coming to Europe later this month for the 'Maximum iMPACT! Tour with shows taking place in Paris, Berlin, Glasgow and London.
Ahead of the London show at Wembley Arena on Saturday January 29 Jarrett will be hosting a 'TNA Gut Check' workshop to try and find an unknown talent to join the company's roster.
And the in-ring veteran is confident someone will appear who has what it takes to make it as a professional wrestler.
He said: "We are looking for the next top star to join the TNA roster. The 'Gut Check' challenge is a workshop seminar and you don't have to be a pro wrestler already, you can be anybody, we're trying to find that diamond in the rough. We've done them in the States and decided we wanted to bring one to Europe and we had the tour coming in January and London's the last day of the tour so it just fits perfectly.
"If someone's good enough you could see them on them on 'TNA iMPACT!' in the next week, month, year who knows?"
Follow Emirates 24|7 on Google News.