Hulk Hogan's son hospitalised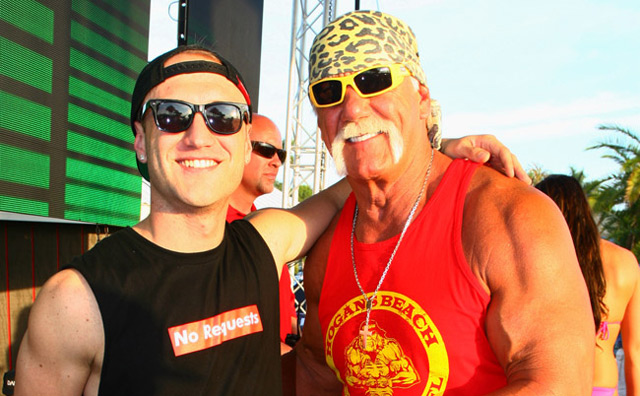 Hulk Hogan's son Nick has been hospitalised after he fainted at home last week, the wrestler has revealed on Twitter.
The 64-year-old retired professional wrestler revealed on Twitter over the weekend that his son Nick, 27, had stayed in hospital for 12 hours last week as he apologised to his followers for not having updated his account in a while.
He wrote: "Sorry about last week with the shout outs,retweets and bday wishes that didn't go out but with my son in the ER for 12hrs and the ongoing drama family is first,but surprised by some instant attacks by followers,that's cool but it's just not about you all the time,I'm out HH (sic)"
According to The Blast, Nick fainted at his father's home in Clearwater, Florida, last week, and was subsequently rushed to hospital.
One source told the publication: "He just overdid it with work. [He had] just been training so hard and didn't eat enough that day."
Another insider, however, claimed the fainting incident came after Nick was pushed to the limit by his job.
They said: "[Nick has] been working very hard on his career which has taken him to Dash Radio doing work on the electronic music operation."
The publication reports that Nick is now out of hospital and resting at home, where he is said to be doing "much better".
Meanwhile, the wrestling legend - whose real name is Terry Bollea - recently revealed he is confident he would win a political race to become Senator for Florida, but admitted he wasn't overly keen on swapping his sporting career for one in politics.
He said: "Well my reaction is, if I run I will win. Brother, I don't wanna run, OK, I have a great life here on the beach, you know, the only thing I am going to make a run for is the world title again if I do any running. But right now I am just having a blast."
Follow Emirates 24|7 on Google News.