Huma Qureshi is no Sonakshi or Parineeti; she is fat and happy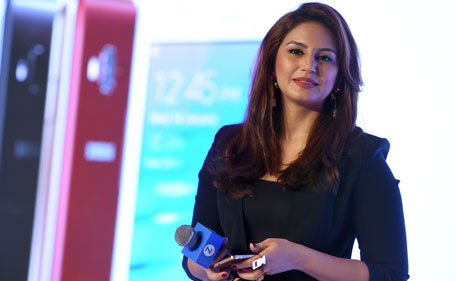 Unlike other Bollywood actresses like Sonakshi Sinha and Parineeti Chopra who have lost weight not necessarily for their films, but in general to look trimmer and fitter, Huma Qureshi does not believe in doing so.
Huma Qureshi does not have inhibitions being on the heavier side. On the contrary, she gracefully accepts to be what she is and looks gorgeous on screen.
Sanskriti Media and Entertainment
She may not come across as the quintessential heroine of Bollywood, but certainly has the talent to achieve glory and applause.
And the 'Badlapur' actress does not spare anyone who asks her why she has not trimmed down.
Getty
Huma was at an event when a journalist innocently asked Huma as to why she was not losing weight and here is what the reply she gave,
"Why? You don't like how I look? I don't look nice? You want me to die starving? You want to see me putting my finger in my mouth and throw out everything? Why do you want to become unhealthy?," thundered the actress at the scribe.
She then cooled down realizing that she had overdone her bit.
Sanskriti Media and Entertainment
"Of course, if you ask me a question if I will play an athlete one day, for sure I would love to. If you ask me a question that you would play a supermodel one day, I would love to; for a character and a role I would love to put my body through a process and completely transform myself. But then, as of now I am very happy with how I look. I look quite nice," she answered.
Huma has not been approached with any role in her short career that she has had the need to shed weight from her bulky frame.
In fact her role in her forthcoming film 'Badlapur' is more like the way she normally looks.
Indian Bollywood actress Huma Qureshi poses during the launch of the Samsung Z1 smartphone at a function in New Delhi on January 13, 2015. The phone retails for INR 5,700 (91 USD). (AFP)
"Badlapur is a very special film for me. I am called Jhumri in the film and it is a very special role in a very special film. When I was offered the character I had to literally pinch myself as it's a beautiful story. It is quiet edgy, it's quite dark. It is a story about two men played by Varun Dhawan and Nawazuddin (Siddiqui) and then there are others," she says.
As for Varun, Huma is very impressed with him and feels he is the next big thing.
"He is already pretty big, but I think he is the next superstar. He has all the talent and the trappings of being a superstar. He works very hard too. He is so passionate about his career, that even I managed to learn a few things from him," she says.
Follow Emirates 24|7 on Google News.