I don't endorse marriage at all! Kangana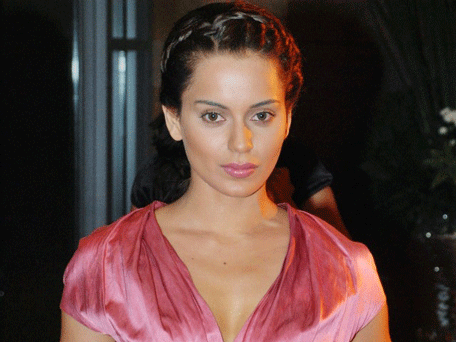 Kangana does not believe in the institution of marriage at the moment. Strange as it may sound, but the actress who was earlier in a tumultuous relationship with Aditya Panscholi followed by a whirlwind romance with Adhyayan Suman, says that she believes in being true about her relationships, but then does not look at it as a commitment.

Sounding clearly commitment phobic after a few experiences, she says: "I have been open about my affairs and myself because I do not like to put on a façade. I do not like to hide things from the people as I feel that truth does prevail. I do not know why people like to cover their love liaisons. I love to be myself because I feel comfortable just being myself."

Query her about marriage and she takes a step backwards. "I don't endorse this commitment at all at this juncture in my life. I feel that two people can also enjoy a companionship. But then being together as a companion, we should be true to the relationship we are in. I do not see a reason to get it endorsed by any government document; There is no point in taking charge of anybody's soul and also possess their surname. I have also seen people have so many issues within a marriage and then so easily walking away from this commitment. I feel I can be sincerely trustworthy while being in a companionship. I feel that that no relationship needs to be legalized. It is maddening to do such things in this age and era. We a have so many other things to do. To build one's trust we need not tie the nuptial knot. Maybe my state of mind will change latter but presently I have these notions in mind," philosophises the actress.

Kangana feels that the last thing that she can tolerate from her partner is lack of sincerity in the relationship. "If in a relationship someone cheats me or proves to be insincere I will be the last person to tolerate it. I would definitely like to take my route on to my liking. I am not promoting live in relationships though! Being in a companionship it is necessary to be sincere wherever we are!! A secure relationship does not need any kind of a contract. I can never turn a blind eye to any nonsense… I would prefer walking out of such a relationship," she says like a queen.

That brings us to her next film Queen. She has written the dialogues of the film as well. "The director Vikas Bahl was kind enough to accommodate me having my own dialogues in the film and give me credit for it as well," says the actress who now encouraged by her own act is off to the US for a screenwriting course with the New York Film Academy. "Yes, I am leaving for the US soon. I do not rule out being a director as well," says the actress who feels like a queen now.

" Yes it is only during some fleeting moments do I feel like a Queen. Also one cannot feel like a fool all the time. This character I play in the film is also like that. I am called Rani."

She adds, "I play a simple girl who is not very confident about herself. Unquestionably I play a "Behenji". The film is like the transformation of the underdog Rani who plays the hero of the film. But in real life I am simple but very confident .Therefore I broke the rules of the society and moved out of my house traveled alone to Mumbai when I decide to make a career for myself. However, during the initial stages of my career I was slightly confused and did know how to go about things. I could not choose on the kind of lifestyle I wanted to pursue? What exactly I was looking forward to? I did make some mistakes but now everything is sorted and now I know what I want! With innumerable good and bad experiences in life I have learnt a lot and obviously I can think with more clarity."

Coming to politics Kangana is not endorsing the Aam Admi Party in Delhi. "Well! I do not know whether things this party has promised will be fulfilled. Whether things shaping up in the centre will happen in a positive note! But there has come in a vast change in this short period of time. The nation is looking for a positive change in terms of Education, Economic development, Employment etc especially in the rural areas. There is a wave of changes that has come to the fore from through AAP the party is trying to do the unconventional changes…they are claiming to fulfill the needs of the people that they are looking forward too. I believe sincerely that they should be given one chance to be able to do what they have promised the junta."

Kangana knows not what efforts she might put up by herself while trying to bring in a good change for her country but she assures what best she can do at her own level." Yeah! Definitely if I get a chance to serve my country and bring about some good changes I will surely put in my sincere efforts. What they will be can be decided while I literally get a chance. But presently at my own personal level I always make it a point to a] Close the running tap. b] Switch off the electricity and fan buttons when not in use. c] Also being educated try to educate my domestic help to not to let the running tap be open etc. d] Lastly, I do not like to unnecessarily waste money on Laundry. I use my "Towel" for almost fifteen days. Also while washing clothes do not want to waste water and soap unnecessarily. Extravagancy is not permitted in my household affairs," says the girl knowing well, where to cut costs.

We want to tell her that she will make a great housewife too.
Follow Emirates 24|7 on Google News.