Imran Khan, wife Reham in Dubai; poses with Veena Malik, Asad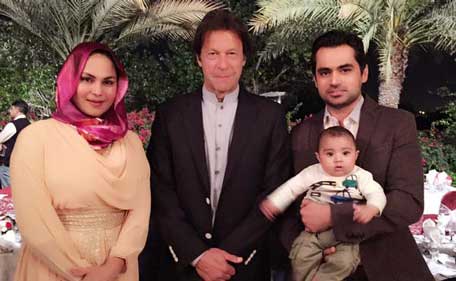 Pakistan's Tehreek-e-Insaf (PTI) chairman and ex-cricketer Imran Khan is in Dubai to encourage investments in Khyber Pakhtunkhwa (KP).
Imran Khan will inaugurate the first KP Investment Conference today (Feb 25) in Dubai.

Dunya News reported that before leaving for Dubai, Khan said KP was the only province that has successfully encumbered high-level corruption.
Imran Khan is accompanied by his newly wedded wife Reham Khan.
The couple was part of a dinner hosted last night where they mingled with the Pakistani community in Dubai.
Pakistani actress Veena Malik and husband Asad Khattak also attended the dinner and chatted with the politician.
Talking to Emirates247, Veena said, "We met them last night at a dinner (party), it was a great evening."
Mr Khan enquired why Asad failed to join his rally in Islamabad that sweeped anti-government sentiment in Pakistan last year.
Veena explained, "Asad was with me as I was expecting and I wanted him near me. But Mr Khan really appreciated Asad's song for PTI and our contribution for Shaukat Khanum Memorial Cancer Hospital & Research Centre (founded by Khan) alot."
During the dinner they were introduced with Reham Khan who endearingly held Veena's son Abram on her lap.
Rehma and Asad bonded well and spoke in Pushto language as they both are Pashto.
Veena said, "He (Imran Khan) is a very kind and pleasant person, what inspires me most about Mr Khan is that his vision supports common man and we all love him for his honesty and upright personality."
The Khyber Pakhtunkhwa Government and Khyber Pakhtunkhwa Board of Investment & Trade is organizing an Investment Road Show exclusively sponsored by Multi Donor Trust Fund managed by the World Bank, to showcase the highly attractive and lucrative investment seeking projects in Khyber Pakhtunkhwa province of Pakistan today at Armani Hotel Dubai.
Khyber Pakhtunkhwa is an untapped market and offers immense investment opportunities, according to organisers.
The Khyber Pakhtunkhwa of all of Pakistan's Provinces is unarguably the most diverse ethnically; the most varied in terrain and sports a vigorous cultural spectrum.
This event will highlight the investment opportunities and reflect the true potential of the province Khyber Pakhtunkhwa.
Also see: Movie Listings in UAE
Follow Emirates 24|7 on Google News.