Is Shahid Kapoor shifting into new home to get engaged?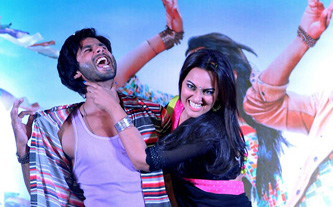 There were rumours afloat that Shahid Kapoor may soon be engaged after he moved out of his family home in suburban Versova.

The actor recently relocated to the more uptown Juhu.

Shahid has set the record straight that no rings have been exchanged and the media has set the wrong alarm bells ringing.

Shahid has been linked to most of his heroines or close friends - from Amrita Rao and Kareena Kapoor to Vidya Balan, Priyanka Chopra and Sonakshi Sinha.

Shahid did mention that he would not date an actress, but then he denies that there are any such plans to get engaged.

"You can see my hand. See my finger. I have shown you before. No, I am not engaged," he says.

But then the actor says that he will be missing living with his family – father, step mother and half siblings.

"You know the thing with the house is whenever you feel it's ready you realize that it's not ready. So, I am just hoping that it gets done soon and I shift in soon.
But I am also feeling a little weird because I am moving away from my family. I stay very close to my father and he stays just one floor below me, so I am getting a little weird about the fact that I am on my own and a little away from my family.
So I am just delaying shifting my house and the work is on and hopefully it should be ready soon," he says.

Shahid may not have plans in real life, but he is headed for a wedding on screen. The movie in question is 'Shandaar', which is based on a destination wedding. 'Shandaar' sees him as the groom with Alia Bhatt playing the bride.

The film is directed by Vikas Bahl who like the lead actors of his film has also been nominated in major awards functions. Shahid feels that he combination is awesome.

"We are a pretty cool team. Ever since Vikas me and Alia completed the shoot of 'Shaandaar', we have been bumping into all award functions and it feels good that all three are being appreciated for our earlier work. When we planned 'Shaandaar', it wasn't a big film and 'Queen' wasn't released. Alia has had three releases post that and she is being appreciated for her work and I have 'Haider' now.

So, it's really amazing. Things are looking so good for all of us this year and we hope that people like 'Shaandaar'. And it just feels very, very nice to see people with whom you worked, had a good time working with and to go up on stage and be awarded and appreciated," he says.

But then Shahid does say that he has never been one who has chased the lady in the statues.

"I have never worked for awards till date. I have to be very honest about that. I go for the nominations and feel very special to be nominated. I think you cannot work towards wanting to win an award.
The only thing I wake up to is the love of the people and I really feel that I have been supported by the people who like my work. When i have done some really crap films, people walked out saying that film was not good but we liked Shahid. It was very kind of them to do and for me that's what is more important," he philosophises.

'Shaandaar' is slated for release in the month of September. Shahid has spent a decade in the movie industry and feels that he does handle the pressures rather positively.

"I have been doing this for 11 years , so I am used to pressure. I actually look at it very positively because I think it's a very good film and there is no other way that one should see it," he says.

After a dark and brooding performance in the Vishal Bharadwaj film 'Haider', 'Shaandaar' sees Shahid in a light hearted role. Here's hoping that he manages to make a mark, for the good of his career.


Follow Emirates 24|7 on Google News.