Jackson kids training to be super-stars like father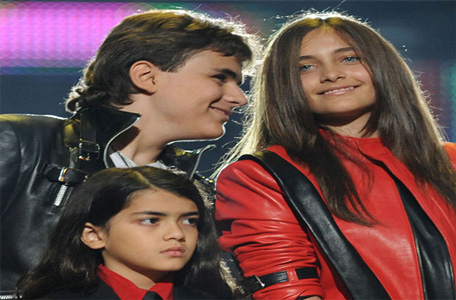 Michael Jackson's children Prince Michael, Paris and Blanket have signed to their aunt La Toya Jackson's new talent agency
La Toya Jackson, 56, reportedly brokered 16-year-old Prince Michael Jackson's new role as a correspondent on 'Entertainment Tonight' as well as his upcoming cameo on 'Beverly Hills 90210' and is trying to negotiate a reality TV series for him and his siblings Paris, 15, and Blanket, 10, after convincing them to sign with her Ja-Tail Enterprises talent agency, which boasts no other clients.
A source told the New York Post's Page Six that the rest of the Jackson family are not happy that La Toya, who will earn 15% commission on each of their deals, has taken control and believe she has manipulated the children and their guardian and grandmother Katherine Jackson.
The insider said: "Prince wasn't exactly eager to do 'ET', but could you tell? When the money is on the line, Toya is going to cash in. I wouldn't bet against her.
"Toya's working it. It's because [Katherine] can't say no to her.
"She pounced while everyone else was making a lot of useless noise. It was her smoke screen, and she got it done.
"She told them how she knew [Michael] better than anybody else, and she knew he'd want them to follow their dreams; and because they were his children, they could be media and entertainment moguls.
"She had a blueprint. She sold it, and they bought it."
La Toya has allegedly been offered a $10 million deal from Oprah Winfrey's network OWN for the children's reality series.
Prince Michael - whose father died from acute Propofol intoxication in June 2009 - hopes to have a long career in the entertainment industry.
He said: "I'm looking to become well-rounded as a producer, director, screenwriter and actor.
"I've been raised around stuff like this so it was different being the interviewer instead of the one being interviewed."
Follow Emirates 24|7 on Google News.