Jackson's fanfare missing at court hearing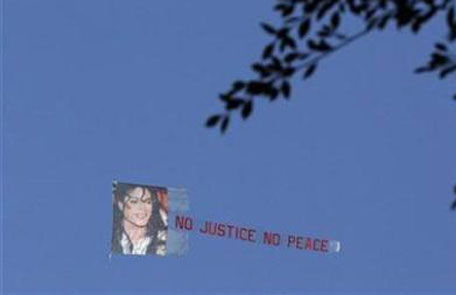 A plane flying a banner with a photo of Michael Jackson on Monday soared above the court where his ex-doctor stands accused of involuntary manslaughter, and the message with the picture was blunt: "Change charges to murder." Skip related content
In the case against Dr. Conrad Murray, the plane and its banner were a rare instance of anything close to the spectacle of Jackson's 2005 trial and acquittal on child molestation charges. Back then, hundreds of Jackson fans from all over the world gathered daily near the courthouse and even saw their hero dance for them atop a vehicle one day after a hearing.
The lack of a swarming and adoring crowd has prompted the question of whether the "Thriller" singer's star has faded in the roughly 18 months since his death. But pop culture watchers say, probably not.
Murray's preliminary hearing, they say, has failed to generate excitement in the same way as other celebrity-related cases because Murray is not a star himself and the allegations against him were revealed months ago in court papers.
"It's not that Michael Jackson's fans don't still love him, they just don't feel compelled to take a stand and make a statement by showing up over this, because they've already made their minds up," said Cooper Lawrence, the author of "The Cult of Celebrity."
The preliminary hearings began last week into whether Murray should stand trial for involuntary manslaughter in Jackson's June 25, 2009, death at age 50 from an overdose of the aesthetic propofol and the sedative lorazepam.
Murray was caring for the singer at the time, and prosecutors claim he is responsible for giving the singer too many drugs. Murray has pleaded not guilty. After the hearing, a judge will decide if enough evidence exists for a full trial.
A couple dozen Jackson fans have shown up every day outside the Los Angeles courtroom, waiting in a hallway and hoping to get a seat in the hearing. But aside from Monday's fly-over paid for by Jackson fans, there have been few incidents to grab the media's attention outside the court.
RED ARM BANDS
Bus operator Dana Brenklin, 34, is one of those die-hard Jackson supporters attending this month's hearings and wearing red arm bands to show their allegiance to the singer.
"I don't know why they (more Jackson fans) are not here. It's strange," Brenklin said. "I thought we would be filling up this whole hallway."
Few if any of the Jackson fans have travelled to Los Angeles from other parts of the world, as they did back in 2005.
Jackson's family members, including his mother Katherine, his father Joe and his sister La Toya, have attended the hearings, and fans have cheered them on during their walks down the courthouse hallway. They have given the same praise to the prosecutors. One fan exclaimed, "Those are our attorneys."
But Brenklin remembers an entirely different scene at the 2005 child molestation trial in Santa Maria, California, northwest of Los Angeles.
Back then, she travelled to the arraignment with a bus full of Jackson supporters from a church. Once there, she saw vendors selling memorabilia and so many people milling around that she could barely even see Jackson walking in.
"It was ridiculous, it was like it was going to be a concert or something," Brenklin said.
Robert Thompson, professor at Syracuse University and an expert on pop culture, said he is "surprised" the hearings have been so low-key. "If this were Michael Jackson on trial, it would be huge," he said. "How do I know that? It was huge when Michael Jackson was on trial."
But he said that if the judge holds the case for trial, as is expected, the next phase could draw more attention.
Follow Emirates 24|7 on Google News.