James Cameron to take on tsunamis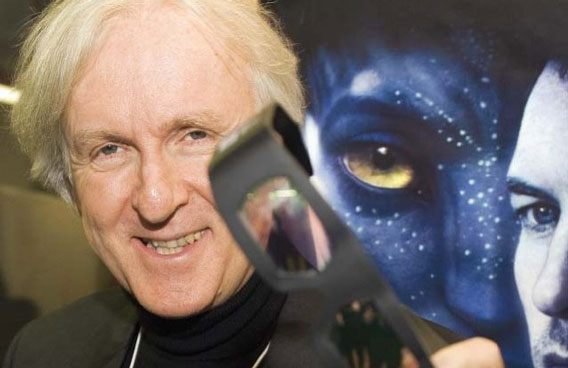 Critically-acclaimed director James Cameron talked about the difficulties he faced in technically developing his mastermind film, 'Avatar', while looking the future of technology across all mediums and how it could one day even buffer the devastation that Japan currently, and Indonesia earlier, faced in wake of the earthquake and the corresponding Tsunami.
In a candid chat with James Murdoch, CEO and Chairman of News Corporation, Asia and Europe, at the ongoing Abu Dhabi Media Summit, Cameron – who is also a deep-sea explorer – revealed that he is currently mounting a submarine expedition to the Mariana Trench in the Pacific Ocean, which should see him set off one year from now.
"We are in the process of building submarine to go to the Mariana trench, which is around 11,000 metres under water," said Cameron.
"The idea is to understand what is happening down there, to get data and conduct seismic surveys there so we can avoid another Indonesia and Japan."
Cameron stressed on the urgent need of technology in our daily lives, from deep sea exploration to the big screen.
"Creating 'Avatar' starting me thing from a technological point of view," he said. "I was not just a filmmaker but the CEO of Digital Domain and the company's biggest client. What I wanted was a quantum leap forward but I was told it was too early to conceptualize my ideas. So I had to box the idea away and wait for 10 years."
"'Avatar's' 3D technological advancement took painstaking work, which including Cameron and his team conceptualizing a special face camera that could capture every nuance of every expression.
The director explained: "The audience had to be moved by the characters to ensure its success, not by just great visual vistas but rather tight face close-ups. We had to capture every finer nuance.
"We knew how to capture everybody performance, but we had no idea how to capture every facial performance. So we mounted a tiny camera onto their face and that recorded their every expression."
The 'Titanic' director stated it took two years to write the software that could take that raw data set and turn it into reality.
3D vision
Cameron's use of 3D technology in 'Avatar' has redefined how Hollywood now perceives this form of cinema.
"The argument in a filmmaking process that wants to utilise 3D technology has always been, do we film it in 3D or do we do bear the cost in post-production," he explained. "It is a cost saving exercise of course, but I know that I prefer shooting in 3D.
"In fact, ticket sales are flattening, but if studios are making more money, then it is because we are charging tickets at a premium for 3D technology. People want the big screen experience and they want those extra effects and are willing to pay for it."
The most common problems facing filmmakers who utilise 3D technology is maintaining that fine balance between storytelling and ensuring the visual effects don't overcome the plot.
Cameron agreed, saying: "Because I have explored both storytelling and technological advancements throughout my career, my challenge has always been to stay closer to the heart of the character. And because I write my own stories, I know what my characters are feeling before I start thinking camerawork."
He went on to say: "What the audience wants is a fresh story and the best films work on your emotions. 'Avatar' pushed on technology that would cannabilise the big screen market. And it had me go on a 10-year odyssey to fight with filmmakers."
Cameron revealed that when digital cinema opened, people thought it would die out but it took 3D as a catalyst to bring it to the stage it is.
"Best described, 'Avatar' was like jumping out of an airplane and knitting the parachute on the way down," he laughed. "We would be in middle of production day and we would ground to a halt because the equipment wouldn't work.
"But today we can say that people will go to school and look in a manual and know how to do things because we solved it."
So what's next, one wonders and Cameron doesn't shy away from answering it: "People often ask me, is 4D the next thing. And I always say, we need to consolidate 3D first. That's the big step," he concluded.
Cameron shot to fame in 1984, when 'The Terminator' hit the screens for a seemingly short one-week run but ended up collecting $78m at the global box office.
Since, there was no looking back for the Canadian director/writer/producer, who went on to create the cult hit 'Aliens' with Sigourney Weaver in 1986, followed by 'The Abyss' three years later and 'Terminator 2: Judgment Day' in 1991.
But it was the record-breaking 'Titanic' in 1994 that really turned Cameron into a household name, sweeping almost all the Academy and Golden Globe awards that year and creating box office history with the film becoming the highest grosser of all time, earning $1.8 billion globally according to industry records.
That record was broken in 2010 when Cameron's 3D masterpiece, 'Avatar', which was the closing film of the Dubai International Film Festival the previous year, garnered over $2.7bn at the global box office.
In fact, it was 'Avatar's' phenomenal success that saw 'Vanity Fair' magazine name him Hollywood's top Hollywood earner earlier this month, with estimated 2010 earnings of $257m.
Cameron is reportedly now involved in the pre-production of 'Avatar' parts two and three, which will reportedly be followed by 'Battle Angel', but no details of the last project have emerged.
Democracy tops Arab
youth wish-list: survey
Demand for online
Arabic content defines
media summit
Follow Emirates 24|7 on Google News.