Jennifer Aniston and Justin Theroux's wedding on hold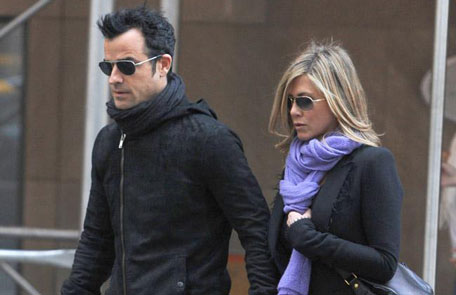 After being engaged for 18 months it looks like Jennifer Aniston and Justin Theroux could be heading for splitsville.
The wedding plans have seemingly been put on hold.
Jennifer Aniston is apparently so lonely without Justin Theroux, she's moved out of their house.
Justin is currently in New York shooting his latest project The Leftovers, while Jennifer holds the fort in Los Angeles.
The couple have been faced with numerous rumours that they've parted ways, but reports suggest 45-year-old Jennifer has simply moved out of their California home because she's lonely by herself.
According to Radar Online, an insider in the power couples camp said: "Justin asked Jen to come to New York City but she declined, citing the cold weather. She wanted to be in sunny Southern California with her friends.
The source added: "It's absolutely indicative of the status of Jen and Justin's relationship. There is absolutely no wedding talk or planning going on."
This latest display of the cracks in the couple's relationship comes following the funeral of Phillip Seymour Hoffman.
Justin was close friends with Hoffman, and was all alone at the service.
Theroux would have been by Aniston's side at her 45th birthday party - but he was working in New York.
Jen has been rattling around the Bel Air mansion, now that Justin's been in New York for such a long time. She's been terribly lonely and started spending more time with friends such as Courteney Cox and Ellen DeGeneres and Portia de Rossi.
While neither Jennifer nor Justin have commented on their relationship, friends close to the stars say things don't look good.
Despite getting engaged in 2012, a date for the wedding has yet to be set.
Things have really deteriorated. They've barely spoken for weeks.
Apparently the couple's relationship - that started back in 2011 - is destined for the rocks, because neither of them really wants to make it work.
Follow Emirates 24|7 on Google News.