Jennifer Lopez dances all night, Nicole Scherzinger sizzles in sari [video]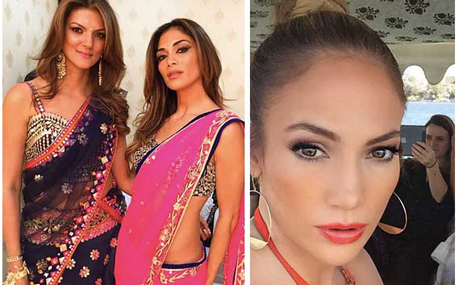 Jennifer Lopez and Nicole Scherzinger were part of the star-studded entertainment at the £15 million Indian wedding of Sanjay Hinduja and Anu Mahtani.
The 'On The Floor' hitmaker and the former Pussycat Dolls singer are reported to have received around £650,000 each for their performances as part of the star-studded entertainment at the wedding of Sanjay Hinduja and Anu Mahtani at one of India's most exclusive hotels, Jagmandir Island Palace.
According to Hindi newspaper Rajasthan Patrika, the nuptials is said to have cost 100 crore rupees, which is around £15 million.
Twitter
The married couple - who are part of one of Britain's wealthiest families, with the relatives worth £11.9 billion between them - also hired Bollywood stars Arjun Kapoor and Ranveer Singh to perform at the three-day event, where 16,000 guests were treated to foods from at least 16 different countries.
More than 200 planes were reportedly chartered to bring the guests to the venue while the hosts had BMW cars flown in from Mumbai.
Jennifer is thought to have stayed in a £3,000-a-night luxury suite and Nicole was gifted a sari, a traditional Asian garment, and seemed delighted with the present.
(Twitter)
She shared a picture of herself wearing the garment and caption the image: "Thankyou for my beautiful #Sari... (sic)"
Alongside another photograph of her posing next to some flowers, she added: "So blessed to perform here. #teamscherzy (sic)"
(Twitter)
It was Jennifer Lopez's first time in India. It was not a big, public, banging outdoor concert in Delhi or Mumbai or Bangalore.
It was for a private performance on a glamorous, royal palace hotel island in Rajasthan.
Preity Zinta (right) led the Bollywood Brigade. (Instagram)

The Hinduja wedding provided India with a glamour quotient like few other.

Bollywood was there – but the presence of J Lo – performing to a bhanga beats for a bit; and the Pussycat Doll herself Nicole Scherizinger, who also performed.
Left: Nicole Scherzinger (right) poses with the bride's sister. Right: Jennifer Lopez posted this selfie of her first India trip. (Instagram)

The wedding, rumoured to have cost £15million, saw 50-year-old Sanjay Hinduja marry Anu Mahtani at Udaipur's Jagmandir Island Palace.

Cuisine from 15 countries was served to 16,000 delighted guests as pictures that have flooded social media testify.
The bridal couple - Sanjay Hinduja and Anu Mahtani. (Instagram)

Guests were brought in on 208 privately-chartered planes

Guests included Shilpa Shetty, Preity Zinta, Manish Malhotra, Sophie Choudry and Raveena Tandon.
Ranveer Singh (R) and Arjun Kapoor (R) with Nicole (C). (Courtesy: Twitter)
Also see: Movie Listings in UAE
Follow Emirates 24|7 on Google News.