Jessica Biel: I'm Justin Timberlake's number one fangirl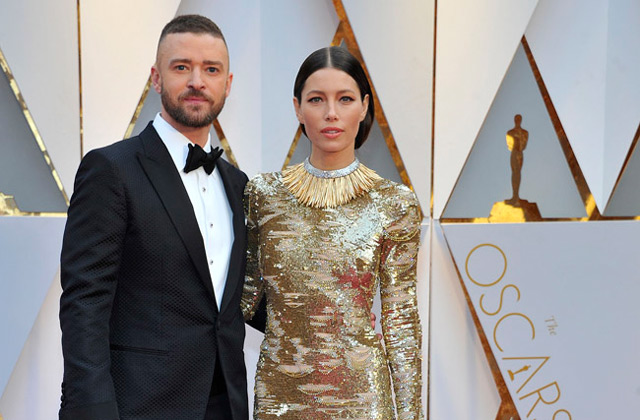 Jessica Biel confessed she is Justin Timberlake's "number one fangirl" as she posted a sweet message to mark his 37th birthday.
The 'Total Recall' actress posted a sweet tribute to her husband to mark his 37th birthday on Wednesday (31.01.18).
She wrote on Instagram: "A picture says a thousand words. And thank goodness because there aren't enough to express ALL the aspects of my love and respect for you. Here's to a spectacular year ahead. I'm so proud of all you've accomplished and all that is ahead for you. plus you're a super hot dad. A ninja dad. A kiddie teeth brushing, Jedi sleep mind tricking, intimidating dad voice disciplining SUPER HOT DAD. I love you, you hot dad.. I'm here, right by your side, OG fan girl #1. Happy birthday, my beloved. Now go crush it this weekend at SB LII. (sic)"
Meanwhile, Jessica previously revealed her and Justin's relationship works because they're both "selfish".
Opening up about their "similarities", she said: "We really have a lot of similarities. We believe in loyalty, honesty. We like to have fun. Also, in the business, we're very career-oriented, and you have to be a little selfish. I understand that about my peers - about being focused and driven - and if you have someone who shares the same values as you, it's like, 'Score!'"
And Justin - who has son Silas, two, with Jessica - previously revealed he would love to have a daughter.
Speaking at the Hollywood Reporter's Power 100 Women in Entertainment breakfast previously, he said: "I feel really inspired to be in this room. People like Angelina [Jolie], Sherry [Lansing], Shonda [Rhimes], Nancy [Dubuc] and you strong women that are younger than me ... Oh my God, I've got to have a daughter. I'm ruined after today."
Follow Emirates 24|7 on Google News.