Joe Jackson is laid to rest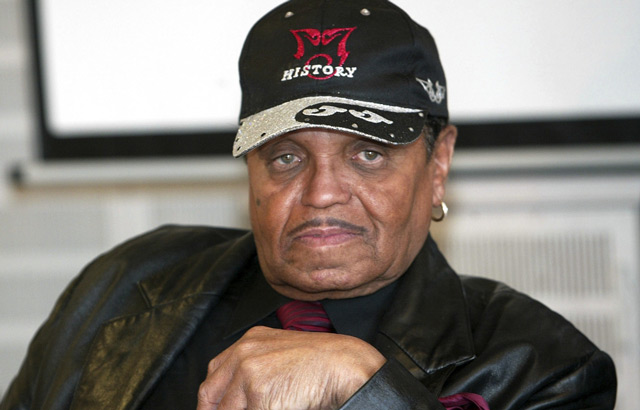 Joe Jackson - the father of the late Michael Jackson - was laid to rest this week in a private ceremony at Forest Lawn Memorial Park in Glendale, California.
The Jackson family patriarch - who is best known for handling the careers of his kids after he helped launched The Jackson 5 - was reportedly honoured in a private ceremony at Forest Lawn Memorial Park in Glendale, the same cemetery as his late son Michael Jackson, in California on Monday afternoon.
The emotional ceremony was attended by Joe's wife Katherine, his eight children - including daughter Janet Jackson - and his grandchildren but a public service is expected to be held over the next coming days, according to TMZ.
The retired talent manager tragically passed away in Las Vegas, Nevada, at the age of 89 following a long and difficult battle with stage 4 pancreatic cancer.
He had been in hospital for some time leading up to his death and, although doctors were hoping to send him home to live out his final days in familiar surroundings, he became too "weak" to leave the care of doctors and he passed just hours later.
A source said at the time: "He had planned to go to his home in Vegas to live out his final days, but that has not happened. Joe is very weak and getting significantly weaker. It's now a waiting game, and the end could come at any time."
Since Joe's passing, several of his family members have paid tribute to the star.
His granddaughter Paris Jackson - whose father was the late King of Pop - took to social media shortly after his death to reveal she had made him "promise" to visit her as a ghost in the moments before he passed away.
She wrote in part of a lengthy caption on Instagram: "i made you promise me you'll come visit me. you agreed and i'm going to hold you to it. and i promised you that we will keep telling your story, over and over. to never be forgotten. my great grandchildren will know who joseph jackson is.
"i love you grandpa. so so so much that words can't describe. i have immense gratitude for you, and always will. we all feel that way. thank you for everything. truly. rest in peace and transition. i'll see you in my dreams very very soon. (sic)"
Whilst her brother Prince Jackson praised Joe as "an example of sheer willpower".
He wrote: "This man is and always will be an example of sheer willpower and dedication. He didn't choose the path that was the easiest but he choose the path that was best for his family. You taught me to take pride in the Jackson name and what it really means, you taught me dedication in the face of adversity and most of all you showed me strength and fearlessness. There is and never will be someone like you. Fly free and until we meet again The Hawk. (sic)"
Follow Emirates 24|7 on Google News.