John Abraham in no mood to end rivalry with Salman Khan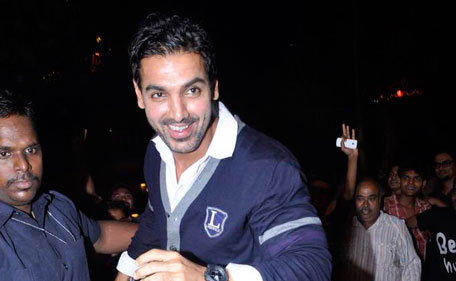 The last time an actor played a Research and Analysis Wing (RAW) agent in Bollywood was superstar Salman Khan in 'Ek Tha Tiger', performing some hard-core action and hand-to-hand combat scenes.

Prior to that actor Saif Ali Khan in 'Agent Vinod' portrayed the suave RAW agent doing some high-quality stunts.
Now John Abraham will essay the role of an Indian Intelligence agent in his upcoming film 'Madras Cafe'.
And according to this macho 'agent' he is different, grounded and more realistic than any other 'agents' in Bollywood.
John Abraham doesn't seem to be too comfortable with the comparison to Salman Khan.
Addressing a press conference John said that unlike previous portrayal in Hindi movies RAW agents do not jump like Spiderman and flaunt six pack abs.
Salman Khan will certainly take a note of this John.
'Ek Tha Tiger' had several intense stunts performed by the oh-so-perfect Salman Khan but John objected to the lack of reality missing from the movie.
He is not in favour of performing raw and unnecessary stunts.
John seems to be in no mood to end his rivalry with Salman Khan.
For the record, John and Salman do not share the best of relationship but the ice began to melt down when John praised Salman Khan in an interview to the media.
Things went wrong between them at the 'Rockstars' concert a few years ago. It seems John had ticked off Salman at the concert and earned himself a place in the superstar's bad books. Then, they shared ice-cold vibes on the sets of 'Baabul'.
There were reports that things were much better between the two after they shared a good rapport on the sets of 'Bigg Boss 5' when John along with Akshay Kumar came to promote 'Desi Boyz'.
They cracked jokes, danced and pulled out all the plugs to promote the movie. Must say the two gave a good performance (pun intended).
However, now we know friendship is a tough nut to crack for the two rivals as John takes Salman Khan head-on ahead of his film's release.
ALSO READ:
Dia Mirza set to marry businessman Sahil Sangha and quit acting?
Follow Emirates 24|7 on Google News.