John Hurt dead: Harry Potter actor dies aged 77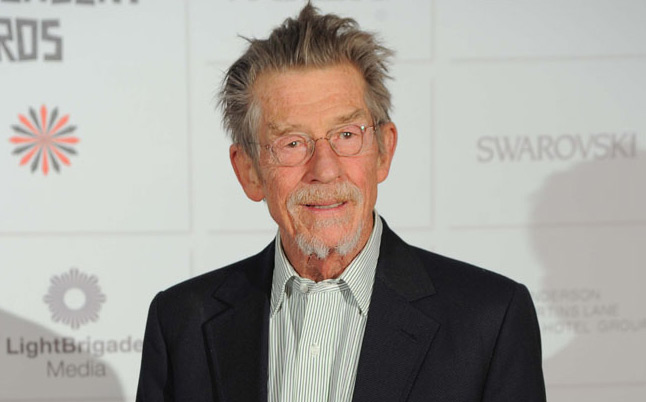 Sir John Hurt has died at the age of 77.
The 'Elephant Man' actor - who battled pancreatic cancer in 2015 - has passed away at the age of 77.
John is survived by his fourth wife Anwen Rees-Myers, who he married 12 years ago, and his two sons, Alexander 'Sacha', 26, and Nick, 23, with third wife Joan Dalton.
He was briefly married to Annette Robertson when he was 22 and later to Texan barmaid Donna Peacock.
Over a career spanning six decades, John starred in a number of movies including 'The Naked Civil Servant', 'Midnight Express', 'Alien', '1984', the 'Harry Potter' franchise and, most recently, 'Jackie'.
He was nominated for two Academy Awards, for 'The Elephant Man' and 'Midnight Express'.
In 2012, John was presented with a lifetime achievement award by the British Academy of Film and Television Arts. He was knighted by Queen Elizabeth in July 2015.
One month earlier, in June 2015, John revealed that he was being treated for pancreatic cancer.
He said: "I have recently been diagnosed with early stage pancreatic cancer. I am undergoing treatment and am more than optimistic about a satisfactory outcome, as indeed is the medical team.
"I am continuing to focus on my professional commitments and will shortly be recording 'Jeffrey Bernard Is Unwell' (one of life's small ironies!) for BBC Radio 4."
Despite his diagnosis, John remained upbeat and pledged to continue working, and in October of the same year he revealed he had been given the all-clear from cancer.
He said: "I had a final scan and it's all gone brilliantly.
"I am overjoyed, I am thrilled. It all looks great for the future, it's fantastic."
Speaking previously about his obituary, John revealed the advice his friend Sir Laurence Olivier, had given him.
He said: "I remember Olivier, when I was playing the Fool in his 'King Lear', saying: 'When it comes to the obituary, they'll only ever mention three things, probably two, but if you're lucky three.'
"And of course when he died, they mentioned 'Richard III', 'Henry IV' and either 'Marathon Man' or 'Wuthering Heights'.
"I mean, if you write your own obituary, I don't know, they'd take the things that got awards wouldn't they? So it would be 'Midnight Express', it would be 'Elephant Man' and 'Naked Civil Servant' probably.
"I won't be here, I'll be gone so it'll be entirely up to them."
Follow Emirates 24|7 on Google News.