Johnny Depp believes Amber Heard wants 'fifteen minutes of fame' with their divorce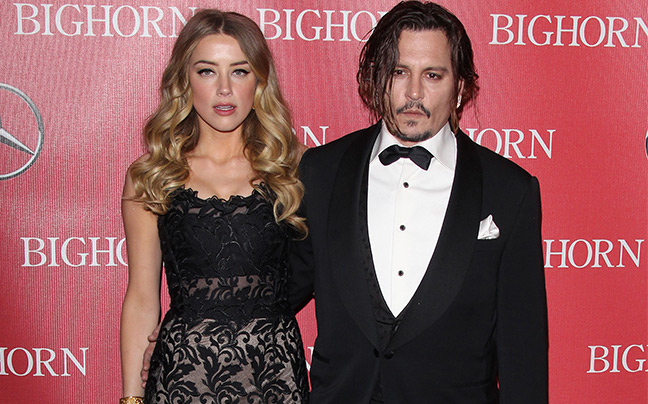 Johnny Depp believes Amber Heard is seeking more money in their divorce settlement to "extend her fifteen minutes of fame".
The 30-year-old actress and the 52-year-old actor reached an agreement in August last year, which would see the 'Pirates of the Caribbean' actor pay Amber $7 million in their divorce settlement, but Amber has since requested to receive a larger pay out, which Johnny claims is a bid to stay in the spotlight.
According to legal documents from Johnny's team, which were obtained last month and have been detailed on E! News, they state: "Amber is now courting renewed media attention with this unnecessary Request for Order. Her application is not only a blatant attempt to extend her fifteen minutes of fame but also a waste of the Court's limited time and resources and an embarrassing grab for addition and unwarranted attorney's fees."
This news comes after Johnny requested for $100,000 worth of legal fees to be paid by the blonde beauty, which Amber has reportedly denied, after she filed a Request for Order with the Los Angeles Superior Court accusing the actor of failing to pay the divorce settlement money.
And the 'Magic Mike XXL' star - who vowed to donate the settlement costs to ACLA and Children's Hospital of Los Angeles - has revealed she is desperate for a "quick resolution" because she wants her "life back", but believes the dark-haired star is constantly putting the brakes on.
In other paperwork Amber has claimed: "Johnny has not lived up to his obligation to me under the [settlement], including payments, allowing me to retrieve my personal property, transferring title of a vehicle to me and meeting regarding division of the furniture and furnishings in the residential units we occupied.
"I have been committed to a quick resolution of this matter so that I can be divorced from [Depp]. Unfortunately, Johnny and his counsel seem to wish to prolong the proceeding as a means of punishing me.
"Johnny has delayed the resolution of this matter. I want my life back. I want to be divorced now."
Follow Emirates 24|7 on Google News.