Jordanians vote in parliamentary polls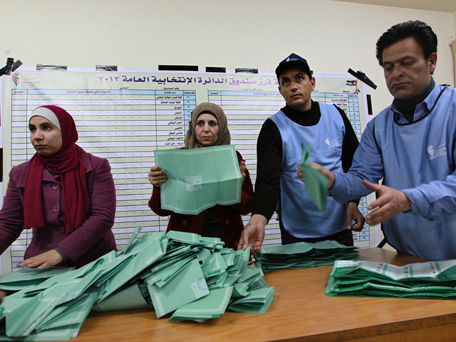 Jordanians voted in their first parliamentary election since the Arab uprisings on Wednesday without the participation of the main Islamist party which is demanding an end to official corruption and a louder voice for the urban poor.
The Muslim Brotherhood says the electoral system is rigged to sideline large towns and cities where it is strongest in favour of rural tribal areas where conservative, pro-government political forces are entrenched.
Turnout was 56.5 percent by around 1700 GMT, when polls closed after voting had been extended for an extra hour, officials said, but Islamists accused the authorities of trying to inflate a low turnout to disguise the impact of their boycott. Official results were expected on Thursday.
The Brotherhood's absence has reduced the election to a contest between tribal leaders, establishment figures and businessmen, with just a few of the 1,500 candidates running for recognised parties. Allegations of vote buying are rife.
Jordan, a U.S.-backed monarchy, has seen large protests against corruption that were critical of King Abdullah, though not on the scale of those that toppled rulers in Egypt and Tunisia and led to civil wars in Libya and Syria.
"God willing, these elections will produce a good parliament that will consider the needs of the citizens. We hope this parliament will be better than the previous one," said Iskandar Nuqul, a voter in Amman's first electoral district.
The king remains for many citizens the ultimate guarantor of stability in Jordan, whose neighbours include Israel, civil-war torn Syria, and an Iraq also riven by sectarian strife.
The political elite is wary of the Arab revolts and the rise of Islamists, especially the Muslim Brotherhood, Jordan's most popular party, with its demand for deep political reform.
Poorer Jordanians of Palestinian origin, a majority of the population, are also drawn to the Brotherhood, which has become the champion of the disenfranchised. A wealthy Palestinian business elite mostly does not vote.

COSTLY STATE PATRONAGE
"If it had not been for tribal affiliations, no one would have come," said Ahmad Salman, casting his vote in the Wadi al-Hajar district in the city of Zarqa home to many Jordanians of Palestinian origin.
"The absence of the biggest and most effective party has cost the election a lot of legitimacy."
The tribal establishment is keen to maintain its access to power and patronage, drawing resentment from the urban poor and the middle classes of Palestinian origin, frozen out of the top army, security and government jobs.
It has stymied free market reforms designed to cut back welfare and a bureaucracy dominated by native Jordanians, who form the backbone of support for the monarch.
A U.S. diplomatic cable published by WikiLeaks said Jordan's "bloated civil service and military patronage system" soaked up 83 percent of Jordan's 2010 budget.
A surge in energy costs when Egypt's new Islamist rulers reduced cheap gas supplies in November only deepened the budget crisis and political divide, provoking violent protests.
Sparsely populated rural and tribal constituencies get a bigger weighting in parliament than the Palestinian-dominated urban constituencies where the Islamists find their support.
"This is a sham election whose results will only erode the credibility of the future parliament," said Zaki Bani Rusheid, deputy head of the Muslim Brotherhood.
More than two-thirds of Jordan's 7 million people live in cities, but are allocated less than a third of assembly seats.
"The people of Zarqa don't feel they have a voice and are in the bottom of the list for everything," said Soud Abu Mahfouz, a Muslim Brotherhood figure who has lived all his life in that city a few miles (km) northeast of the capital.
Jordanians are voting amid economic gloom and austerity policies guided by the International Monetary Fund that the government was forced to adopt last year to avoid fiscal crisis.
Islamists and some tribal opposition figures have called on the king to relinquish power to appoint governments. They say constitutional changes last year that shifted some powers from the monarch to parliament fell short of their demands.
But in tribal strongholds like the northern village of Umm Jimal, there is deep resistance to the Brotherhood's demands for electoral reform that would undermine their privileges.
"Our people would not accept in any way that anyone touches the institutions responsible for the protection of the country and its stability or security. These issues - they are not even worthy of discussion," tribal chief Saed Hael Srour said as supporters packed into his election tent.
Follow Emirates 24|7 on Google News.