Justin Bieber 2 hours late for London concert, fans furious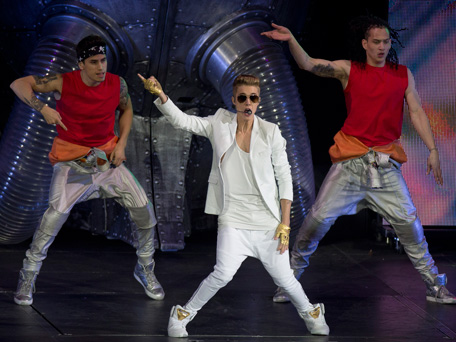 Fans of Justin Bieber were furious after he was two hours late for his concert at London's O2 on Monday (04.03.13).
Infuriated hundreds of parents were forced to leave with their children before the singer even came onstage - as it was a school night.
The 19-year-old has been slammed on Twitter for his 'disgusting behaviour' which saw hundreds of diehard Bieber fans walk-out of the arena heartbroken despite waiting hours for his arrival.

Thousands descended on the 02 arena to see the opening night of the sell-out show, with many fans being under 16, but Bieber did not appear on stage until 10.35pm - just 25 minutes before Bieber was due to finish.
The crowd at the 'Baby' hitmaker's gig at the O2 could be heard booing before Justin, 19, finally made it on to the stage on the latest leg of his 'Believe' tour but they quickly forgot their disappointment as he launched into a string of his hits.
Bieber was even tweeting to his 35 million Twitter followers in the lead up to the show that he was thrilled to be performing in the UK capital. and told fans to 'get ready'.
But fans were not ready for this late night show.
A source exclusively told BANG Showbiz: "The fans were infuriated and they were booing on a number of occasions before he finally turned up on stage on a strange mechanism which made it look like he was floating through the air.
"Everyone was quick to forgive him though."
Meanwhile, Justin's friend Jaden Smith, 14, arrived at the concert with his reported girlfriend Kylie Jenner and onlookers claimed the duo were holding hands after they appeared on stage to throw out fliers to the crowd promoting Jaden's new movie 'After Earth'.
The source added: "Jaden and Kylie were both wearing masks and throwing fliers out to fans. Then they took off the masks and revealed themselves to the crowd.
"They were side by side and appeared to be holding hands as they greeted fans in between Carly Rae Jepsen and Justin Bieber's performances. They looked like a couple."
Follow Emirates 24|7 on Google News.