Justin Bieber dances topless with elderly woman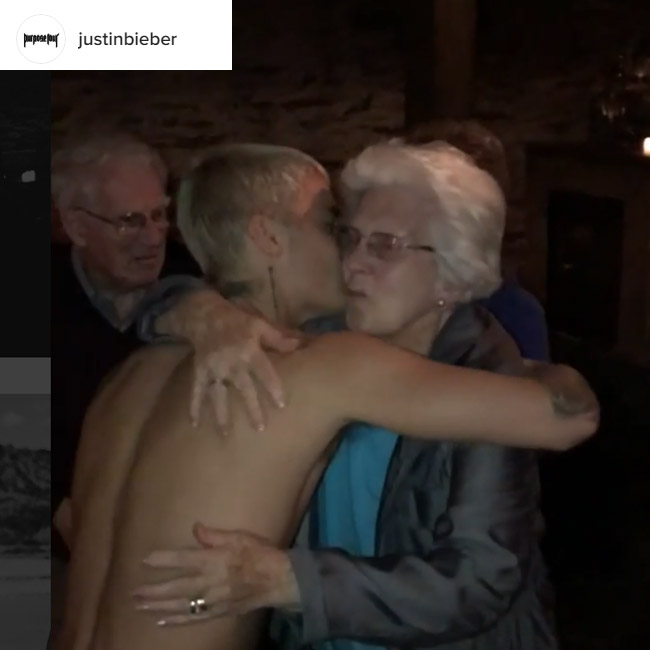 Justin Bieber has made one of his most unusual Instagram posts, a black and white video of him dancing topless with an elderly woman.
The 23-year-old singer logged on to his social media account to share the footage of him bare-chested as he leads the senior citizen by the hand on a dancefloor in New Zealand.
The 'Love Yourself' hitmaker and the lucky lady are seen laughing and joking and Justin ends their dance by planting a sweet kiss on her cheek and giving her a warm hug.
In the black and white clip - which is soundtracked by Jay Z and Kanye West's 2011 hit track 'N***as in Paris' - an older man and woman are looking on at the two from the sidelines with broad smiles. He also shared a coloured clip of the moment.
However, the musician failed to caption either post, something which has kept his green-eyed fans guessing as to who the mature mystery woman is.
The Canadian pop star is not shy to pose shirtless as he also took to the photo-sharing site earlier in the day to show off his new body art.
Alongside two videos of Justin laying back to show off his toned tattooed torso, which was uploaded to his Instagram Story and lasts for 24 hours on his page, he zoomed in to an inking of a giant eagle with the words 'Son of God' emblazoned on his stomach, as well as a bear on his chest next to a set of roman numerals and a crucifix engraving.
Meanwhile Justin, is set to leave the sunny country and jet off to South America later in the week in time to make it to perform at the Estadio Nacional in Chile on Thursday as part of his 'Purpose' World Tour, before he ventures to Brazil, Puerto Rico, which comes just before he travels to Europe to wow crowds and ends his show in America.
Follow Emirates 24|7 on Google News.