Justin Bieber picked out ring after seeing Hailey Baldwin's face in diamond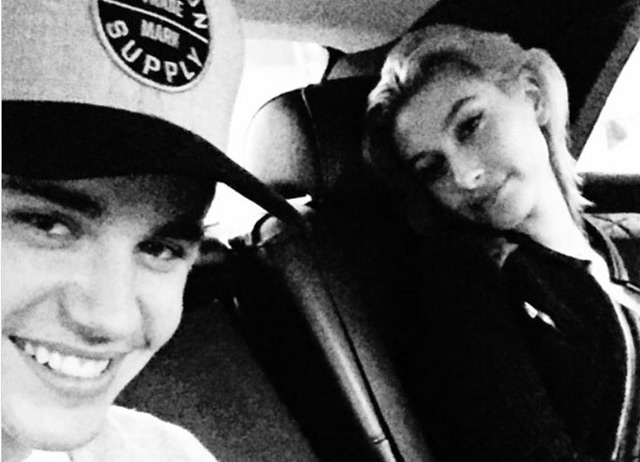 Justin Bieber knew he had found the perfect diamond for his fiancée Hailey Baldwin's engagement ring when he saw her face in the gem.
The 'Never Say Never' hitmaker had a big hand in helping to design the $500,000 band for his 21-year-old fiancée, who he popped the question to last week, and his jeweller Jack Solow admitted the 24-year-old star was "really excited" about the process.
He said: "I showed him all the details and all the intricacies like I would give any other 25-year-old boy who would come to the office to buy an engagement ring.
"He seemed really excited. He was looking inside the diamond with the loupe, and said 'I think I see Hailey's face.'
"In the end, Justin wanted something that would gracefully accentuate Hailey's beautifully-shaped hands.
"We settled on an oval stone that was just exceptional in its length and grace. Look at her hands - she's exquisite."
Following Justin's purchase, Jack made a $5,000 donation to Hailey's grandmother's breast cancer charity through his family-run New York store Solow & Co "out of respect" for the couple.
He said: "We made $5,000 donation to her grandmother's breast cancer charity, the Carol M. Baldwin Breast Cancer Fund, out of respect for the couple and to mark the moment."
The charity has confirmed the pledge, writing on Instagram: "We want to congratulate Carol Baldwin's granddaughter @haileybaldwin on her engagement. Thank you @solowco for your generous donation. (sic)"
Jack revealed Justin's manager Scooter Braun encouraged him to use the private jeweller to find the perfect engagement ring for Hailey.
He added to PEOPLE: "Justin did have a hand in selecting the diamond because I sent videos to his team. I know him through [his manager] Scooter Braun.
"When it came time to find a ring, Justin asked Scooter and said, 'I'm ready to pop the question' and he said, 'There is only one place to go, ask Jack."
Hailey Baldwin buys fiancé Justin Bieber his own engagement ring
Hailey Baldwin has bought her fiancé Justin Bieber his own diamond encrusted engagement ring after he proposed last weekend.
The 'Sorry' hitmaker popped the question to the 21-year-old model with a diamond sparkler over the weekend following years of on/off dating but, although it's usually only the female who wears the bling, the blonde beauty didn't want her beau to feel left out so reportedly splashed out on a dazzling jewel for him when they stopped by Pristine Jewelers in New York City on Tuesday (10.07.18), according to The Blast.
A source told the publication: "Hailey purchased a diamond encrusted ring with the initials 'JB' for Justin to wear, along with another custom made diamond ring for herself emblazoned with 'Baby.' It's unclear if it's a nod to his 2010 hit song."
While the couple were there, Hailey dropped off her engagement ring to be resized as it was a little too loose for her fingers and have a few more diamonds put in.
The 24-year-old pop star reportedly got down on one knee and asked Hailey to marry him in front of a crowd while they were on holiday in Baker's Bay, Great Guana Cay.
A source said at the time: "Justin made arrangements for the ring when they were in NYC and knew that he wanted to propose to her. It was a sudden decision, but Justin always knew Hailey and him had a special bond that was incomparable."
And less than 24 hours after he slipped the engagement ring on Hailey's finger, Justin confirmed the news by sharing a gushy post about his love for her on Instagram.
He wrote: "Was gonna wait a while to say anything but word travels fast, listen plain and simple Hailey I am soooo in love with everything about you!
"So committed to spending my life getting to know every single part of you loving you patiently and kindLY. I promise to lead our family with honor and integrity.
"My heart is COMPLETELY and FULLY YOURS and I will ALWAYS put you first! You are the love of my life Hailey Baldwin and I wouldn't want to spend it with anybody else. You make me so much better and we compliment eachother so well!!
"Can't wait for the best season of life yet!. It's funny because now with you everything seems to make sense! The thing I am most excited for is that my little brother and sister get to see another healthy stable marriage and look for the same!!!
"Gods timing really is literally perfect, we got engaged on the seventh day of the seventh month, the number seven is the number of spiritual perfection, it's true GOOGLE IT! Isn't that nuts? By the way I didn't plan that, anyways My goodness does feel good to have our future secured!
"WERE GONNA BE BETTER AT 70 BABY HERE WE GO!"
Follow Emirates 24|7 on Google News.