Justin Bieber snubs Selena? Gomez 'upset' after meeting ex-beau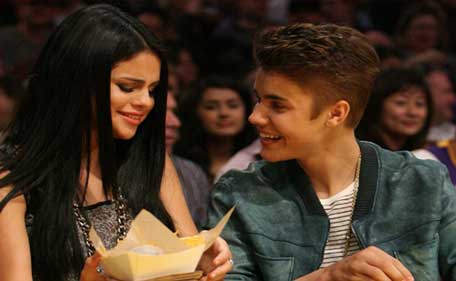 Selena Gomez is reportedly 'upset' after meeting up with Justin Bieber recently because he didn't try to win her back.
The 'Come And Get It' hitmaker was reportedly hoping that her on/off boyfriend would try and "win her back" but all he did was 'brag' about himself.
A source shared: "It was a huge disappointment for Selena because he's basically the same Justin... all talk and all talk basically about himself. He was bragging about himself the whole time, and how 2015 was going to be his best and most successful year ever.
"Selena thought he was going to try and win her back and profess his undying love, but he didn't."
The 22-year-old singer is believed to be kicking herself for going to meet up with the 'As Long As You Love Me' hitmaker as it has "ripped open an old wound".
The source continued: "Selena's upset that she even saw him and she doesn't want any of her friends judging her. It's not like she jumped back into his arms.
"He knew she was staying at Sunset Towers and left a bunch of messages for her so she said she would meet him to talk. But it was bittersweet, that's it. It's like she ripped open an old wound, when she should have just left it alone."
Despite feeling upset by the whole thing, Selena is trying to 'stay focused' on herself and her needs.
The source told HollywoodLife.com: "She's trying to not beat herself up and just stay positive and focused. She says she's only human and it's true."
Taylor Swift is reportedly 'disappointed' in her close friend, Selena Gomez, after the 22-year-old singer was spotted on a dinner date with Bieber.
A source shared: "Taylor is so disappointed that Selena went back to hang out with him, she really has been shaking her head over the whole situation.
"But Taylor doesn't know what to do because she has already done everything to tell Selena that Justin is the worst."
Justin and Selena were seen enjoying dinner together at Mastro's Steakhouse in Beverly Hills, California on Thursday night (15.01.15), which has reportedly angered the 25-year-old singer, who is "tired" of being Selena's shoulder to cry on.
Follow Emirates 24|7 on Google News.