Justin gropes fan; Bieber turning into another Britney Spears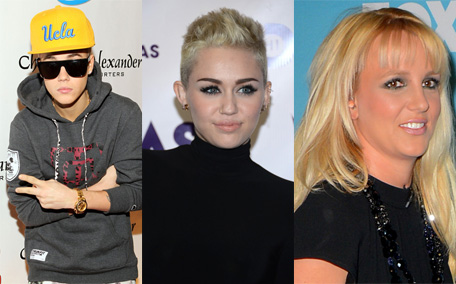 Justin Bieber is single; he is loving it and living it up.
Bieber's site posted picture of the singer groping a young girl while kissing her on the cheek as his 'Believe Acoustic' album is set to be released.
The full-length photo has now been taken down from Bieber's official fan site, but not before thousands of people got to see it.
The girl in the photo with Bieber smiled for the cameras during the shot as Bieber groped and kissed and she is seen in another photo with the pop superstar, whispering in his ear.
The picture is worth a thousand words.
It comes as Justin seems to be growing in his cocky behaviour.
He seems to be slowly turning his back on his young good boy image from when he first rose to fame.
Just before the meet and greet session he was seen in Miami showing off his abs as he strutted around.
The 18-year-old singer lifted up his T-shirt for the cameras. He showed off the results of his altered diet and exercise routine, which he hopes will shape up his muscles.
Following that Bieber continued his reign as the worst-dressed male celebrity with an entirely bizarre outfit - topped off with a pair of winged trainers.
As if we hadn't seen enough of Justin Bieber's bad side lately.
Bieber tweeted out an Instagram photo of him wearing sunglasses and a cap, and pulling down his pants with the simple caption "#moon," then quickly deleted it.
Bieber is riding high on more than the pop charts.
A series of photos on TMZ.com purportedly captured Bieber smoking reefer at a California stoner-fest.
There were five photos of the platinum-selling star getting weed-wacky, including one where he's laughing uproariously in the middle of a Newport Beach, Calif., hotel room, according to the celebrity website. The 18-year-old was hanging with his rapper pal Lil Twist, who apparently kept busy rolling blunts for the Biebs at the packed party.
Bieber to going the Britney way...?
(TWITTER)
Britney Spears—her marriages, custody battles, fights with her mom, marriages, new boyfriends, Starbucks runs, trips to the hospital—has been bigger and more lucrative story than Elizabeth Taylor and Richard Burton or John Lennon and Yoko Ono.
During her first decade in the music industry, Britney became a teenage icon, followed by a much-publicized personal life.
Spears's first and second studio albums 'Baby One More Time' (1999) and 'Oops!... I Did It Again' (2000) were a huge success internationally, with the former becoming the best-selling album by a teenage solo artist.
In January 2004, Spears married childhood friend Jason Allen Alexander in Las Vegas. The marriage was annulled 55 hours later. In July 2004, Spears became engaged to back-up dancer Kevin Federline, whom she had met three months before. In September 2006, she gave birth to her second child, Jayden James Federline. In November 2006, Spears filed for divorce from Federline, citing irreconcilable differences.
Spears's personal struggles sent her career into hiatus. In 2008, Spears's erratic behavior and hospitalizations caused her to be placed under a conservatorship.
Britney's collapse is the most public downfall of any star in history.
Miley Cyrus Channeling Britney Spears...?
(TWITTER)
Cyrus had parts of her head shaved and sported a pixie cut that is far different from her usually long hairstyle and in conjunction with other bizarre behavior, and some question whether the former Disney star is perhaps channeling Britney Spears.
In the past few months the 19-year-old has lost a substantial amount of weight, she has changed her hairstyles repeatedly, recently got her 10th tattoo, she has been accused of frequently cutting her wrists and unexpectedly announced her engagement to Liam Hemsworth. All of these actions cry for "attention."
The apparent recent marks on her wrist, the drastic haircut, and an undeniably fledgling career suggest that Miley is overwhelmed with anxiety, feeling lost and uncertain about her future.
Scandal, tragedy and failure seem to be the typical plague for child stars which brings about the end of their career.
Follow Emirates 24|7 on Google News.