Kangana Ranaut creates a brutally sinful world of 'Revolver Rani'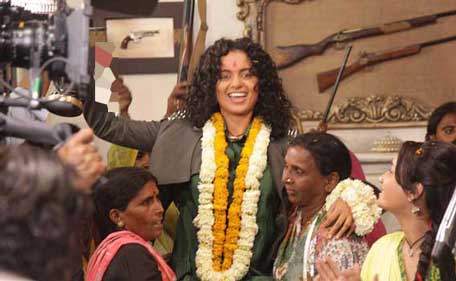 Sai Kabir's movie 'Revolver Rani' wobbles trying to balance Bollywood sensibilities with a racy Quentin Tarantino-styled plot.

As the opening credits brilliantly sketches the havoc created by its gun-wielding, curly-haired heroine, it's tough to ignore the Hollywood reference. But just as we expect the movie to go full throttle and wait eagerly to let the mad queen take us on a wicked ride, the narrative shockingly turns sluggish, establishing the movie's two main plots – the romance and the revenge.

So, when Revolver Rani, aka Alka Singh, does make her debut to grade a men's talent hunt, you don't connect instantly. In fact, you are a bit shocked to see the dusky warrior shed a tear when reminded about love.

Yet, we hold on, because we know that it's only a matter of time before she will go bang, bang, bang.

And, that she does without much delay, hooking us with her menacing rage. We watch her showering bullets and knocking down her rivals, while flashing a sly smile.

Sai pitches a heroine, like no other in Bollywood, and places her in a village named Chambal where goons govern the land.

The dangerous surrounding has impacted Alka, who is unapologetic about indulging in dirty politics and prefers to let her guns do the talking. Apart from her aged scheming uncle, who enjoys immense control over her and pens her political speeches, she lives life on her own terms.

Even her lover is treated like her slave, where even a hint at being deceitful is dealt with punches and blows.

'Revolver Rani' is about the dirty politics, the Bollywood dreams, and the earning for a life uncompromised and loved.

While it's got many extraordinary characters, some incredibly wicked lines and a few well-written power-packed sequences, Sai's unable to piece them together to make it work as a whole.

Although he can be forgiven for being indulgent in his screenplay, after sitting through two-hours-and-15-minutes it starts to wear us down.

A little more imagination, a little more insight in the maddening world of his trigger-happy queen and little more time on the edit, would've gone a long way in leaving a killer impact.

For most parts, we forgive this flaw, because we get to watch Kangana Ranaut in all her finery.

She's effortlessly enigmatic as the roguish Alka, who flaunts a little bit of her real self. Her quirky (international) fashion acquisitions, some exclusively to her lover at night, and her keenness to speak English are obvious references to Kangana's personality.

But the references stop there. Her thick Chambal accent or her fancy for fair-skin, or her dream to get married near the Taj Mahal are captured sincerely.

We can't help but cheer her as she gatecrashes the victory celebration of her rivals, jumps on the bonnet of her SUV, and pumps bullets into the group.

Even, when her cheeky loverboy names her 'Coco' (after a coconut, and how it's hard on the exterior and soft on the interior, much like her), she smirks and returns the favour with; "I'll call you ChamCham, and there's no logic for it."

It's mind-blowing to watch her take on the different facets of the girl-gone-bad. She's shooting away one moment, and at another, she's secretly nursing a desire for a 'happily ever after'.

Although the shift in personality does eventually kill the fun, Sai attempts a resurrection.

Of the supporting cast, Vir Das is passable as the shrewd lover, as he tolerates Alka's quirkiness to fulfill his Bollywood dreams. A seasoned actor would've probably created more drama.

Piyush Mishra gives Alka's cunning uncle Balli a subtle, vicious twist, allowing us to watch him weave conspiracies and nurture an underhanded desire to win political glory. He's impeccable. Even Zeishan Quadri as the Michael-Jackson obsessed Pilot is remarkable.

Although Kangana makes 'Revolver Rani' work on so many levels, the movie doesn't do her justice. We honestly wish it had.
Follow Emirates 24|7 on Google News.