Kanye West to Bollywood's biggest: Where to go celeb spotting in UAE this month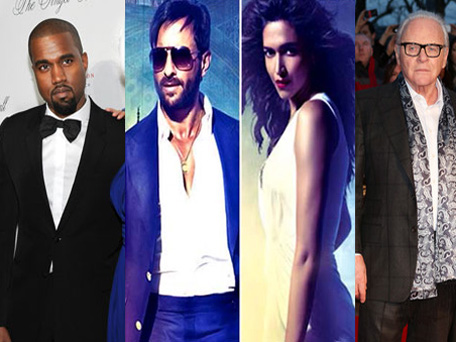 Grab those sunglasses and invest in a nifty pair of binoculars as UAE turns into celeb central this 2013 with some of the entertainment world's biggest names jetting in from all corners of the globe.

The next few weeks will witness a plethora of star-studded events, excursions and all that's in between as Hollywood, Bollywood and music world's biggest names stop over for a show and tell promotional blitzkrieg.

Kanye West, Saif Ali Khan, Mohan Lal, Zac Efron, Sir Anthony Hopkins are just a handful of the celebs who will turn the emirates into a paparazzo den, with sightings at every corner and possibly a few car chases thrown in for some added drama.

Bollywood calling
Jacqueline Fernandez, Saif Ali Khan and Deepika Padukone. (SUPPLIED)
Accelerating into the spectacle are the stars of 'Race 2', who will put the pedal to metal on January 16 for this Bollywood action-thriller, which releases in UAE cinemas on January 24.

Attending the full day event will be Saif Ali Khan, Anil Kapoor, Deepika Padukone, Jacqueline Fernandez and Ameesha Patel.

Speaking to Emirates 24|7, Syed Shuja from organisers Dream Advertising and Ministry of Events, said: "Except for John Abraham, everyone from the cast and crew will be attending the event, which includes a press conference, followed by a 6.30pm meet and greet with the stars at Arabian Centre and then a sit down dinner later that evening.

"While tickets for the dinner are on an invitation-only basis, fans will be able to snap up invites through radio competitions that will run prior to the event."

The event planners are also hopeful of bringing down the stars of 'Special Chabbis', with Akshay Kumar and Kajal Aggrawal, prior to the film's release on February 7 in UAE.

"Later that month, we are organising an Ali Zafar concert as a change in film promotions for his upcoming remake of 'Chashme Badoor'," said Shuja, "Followed by hopefully, a star studded event with the cast of the 'Himmatwala' remake, including Ajay Devgn."

When celebs get sporty
(FILE) During a photo-op captains of six teams from different film industry in India come together for Celebrity Cricket League. (SUPPLIED)
The Valentine month will also welcome stars from India and Pakistan in two mega sporting events that are sure to dominate dinner table conversations with fans of cricket and the Asian sport of Kabbadi.

Between February 7 and 10, the Sharjah Cricket Stadium will host the Kabbadi Premier League with teams from India, Pakistan, USA, Canada, Iran and the UK.

While the players sweat it out by day, the evenings promise to be star studded with celebs such as Mallika Sherawat, Malaika Arora Khan, Rakhi Sawant and Yana Gupta from India, while Pakistan's controversial Veena Malik, Meera, Arif Lohar, Abrar Al Haq are just some of the famous faces that look set to groove to the delight of fans.

Later that month, season three of the Celebrity Cricket League or CCL will see the Mumbai Heroes (who name Sharjah as their home ground), along with the Kerala Strikers, Bhojpuri Dabanggs and the Chennai Rhinos descend on to the Sharjah Cricket Stadium on February 23 for a sizzling match among top Indian celebrities.

The Twenty20 tournament, which runs from February 19 to March 10 will see certainly see Chennai captain, superstar Mohan Lal, along with the likes of Sunil Shetty, Sohail Khan, Aftab Shivdasani, Sonu Sood, Bobby Deol, amongst others, battle it out on the pitch.

Brand ambassadors Bipasha Basu and Sameera Reddy will naturally add the glam quotient as required.

Hollywood and beyond

While the Asians delight in the Bollywood brigade, the next couple of months will also witness some big names from Hollywood and the music world, with a face off of sorts between Slash and Kanye West on January 31.

In Dubai, the Gun N' Roses legend, complete with his iconic top hat, will strum some mean guitar riffs and rock the emirate, alongside Myles Kennedy and The Conspirators.

Expect Slash to play fair with classics such as 'Paradise City' and 'Sweet Child o' Mine'.

Organised by M4 Events, all hardcore rock fans will head to the Dubai Tennis Stadium, The Aviation Club, for this memorable affair.
Ra&B singer Kanye West. (SUPPLIED)

Meanwhile, across to the capital and RnB fans will thank Flash Entertainment for roping in the multi-Platinum Grammy-Award winning Kanye West at the du Arena on Yas Island.

Returning after three years to Abu Dhabi after his spectacular performance at the Yasalam After-Race Concerts in 2010, we can expect the temperamental star to perform tracks from his platinum selling albums including: 'Gold Digger', 'Stronger', 'Heartless' and tracks from his latest collaborative studio album 'Cruel Summer' with artists including Big Sean, Pusha T and Lifted.

The proud papa to be will certainly have a thing or two to say about his baby mama, Kim Kardashian.

Will she be attending too, we wonder?
Sir Anthony Hopkins attends the UK Premiere of Hitchcock at BFI Southbank on December 9, 2012 in London, England. (GETTY)

Meanwhile, jump to March and it will mark the entry of a huge Hollywood Production, with the film shoot of the legendary "Arabian Nights", in Abu Dhabi.

In conjunction with local company Sky Events Management, the film stars Sir Anthony Hopkins, Zac Efron, Dwayne 'The Rokc' Johnson, Liam Hesmworth, Morgane Slemp and many others.

Directed and produced by Chuck Russell, the $90 million film will be shot in the specifically in Abu Dhabi, A Ain and Al Gharbeyah areas, Sky Events said in a statement.

Following this news, singer Miley Cyrus could also be jetting into the region for a Mideast tour for retail brand, Millions of Milkshakes.

Kim was accompanied by her famous mom, Kris Jenner; and it appears, Miley's turn in the spotlight here is also slated to be a family affair.

Sheeraz Hasan, the founder of Millions of Milkshakes and the man behind the celebrity train headed for the region, tweeted earlier to confirm the same.

He stated: "In meetings discussing Miley Cyrus, Tish Cyrus Billy Ray Cyrus to visit Dubai, Qatar, Bahrain, Kuwait and India."

Miley's mother, Tish responded to the tweet, adding one of her own to say: "Would love to visit Dubai. It's my dream."

It is unclear when the Cyrus' will head down to sunshine city, but well-placed mole has whispered that the trip could coincide with Miley's fiancé's, Liam Hemsworth's, trip to Abu Dhabi in March.

Needless to say, some more big names will drop before the year ends. Watch this space for more information in the coming weeks
Follow Emirates 24|7 on Google News.