Karan's Koffee with Nargis Fakhri, Freida Pinto too hot to handle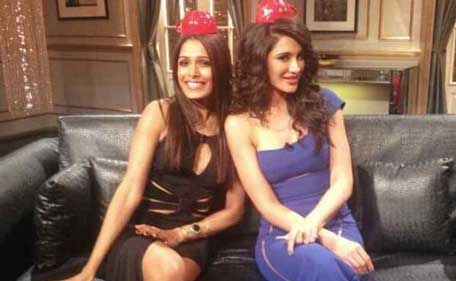 The new episode of Koffee With Karan, featuring Freida Pinto and Nargis Fakhri, is apparently so candid that the 9pm show timing has been shifted to 11 pm.
Filmmaker Karan Johar's popular chat show 'Koffee with Karan' will be aired late at night due to the bold content in the upcoming episode. For the first time, the show will be aired at 11pm.
The channel's view was that the content apparently was too bold for prime time viewing. Both the actresses were frank on the chat show and answered KJo's queries on various subjects.
The repeats of the show, also to be aired in the night slot, are likely to be of shorter duration with a censored version. The episode will be aired on Sunday (Feb 23) on Star World.
With some bold confessions, candid quotes and unexpected celebrity guest debut 'Koffee with Karan' season 4 is already a hit this year.
We find out what other controversies kept Karan's show in the news:
Salman says, "I am a virgin": The latest season of 'Koffee With Karan' has started with a bang. Salman Khan and his father Salim Khan appeared in the first episode of the new season, and Salman pulled Karan Johar's leg throughout the episode. He looked very confident when he claimed that he is a virgin and he sleeps alone. Of course, the people who have been reading stories about Salman's endless affairs didn't believe the actor.
Ranbir's relationship with Katrina: During the rapid-fire round Kareena Kapoor was asked who she'd pick if she were to have a girl encounter. "I would be more comfortable with my sister-in-law, so I say Katrina Kaif," said the actor. In the same episode, Kareena also teased Ranbir about the wedding. She said, "I've got my lehenga (dress) ready and I'm rehearsing the steps to Sheila ki jawani and Chikni chameli (Katrina's popular songs)."
Aishwarya Rai is plastic: Director Mahesh Bhatt and actor Emraan Hashmi made their debut on the chat show and hands down it was the best episode so far. Their answers during the rapid fire round were entertaining. Karan asked Emraan to name an actor when he cited certain attributes. 'Overrated' - Emraan named Imran Khan; 'plastic' - without thinking he said Aishwarya Rai Bachchan. He then went on to call Aamir Khan "boring" and termed Salman a "macho man".
Priyanka Chopra, Shahid Kapoor were dating: Priyanka Chopra did not deny nor correct Karan Johar when he repeatedly referred to Shahid Kapoor as her ex-boyfriend. The former couple is still friendly enough for Chopra to attend his parties we learned.
Deepika Padukone and Anushka are not friends: Deepika Padukone declared that she doesn't have any problems with any of her female contemporaries, including Anushka Sharma aka alleged ex-girlfriend of her alleged current boyfriend Ranveer Singh and Katrina Kaif aka alleged current girlfriend of her ex-boyfriend Ranbir Kapoor. Johar almost choked on his coffee in response, blurting that "if you think you're Anushka Sharma's friend, you're mistaken".
Anushka Sharma's lip job: Karan Johar grilled Anushka about her alleged boyfriend Virat Kohli and she blushed incorrigibly. When asked who her favorite cricketer is; Anushka replied without batting her eye - Virat of course. But the focus was entirely on Anushka Sharma's bee-stung lips. Speculations were rife of a possible lip job that has gone wrong spread like wildfire. So much so, that the actress had to issue a public statement to put an end to the whole controversy.
Follow Emirates 24|7 on Google News.