Kareena and I can never make a hit film together: Saif Ali Khan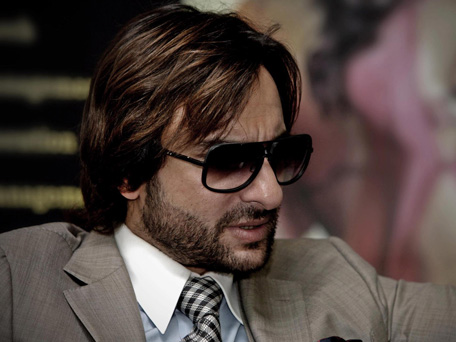 Last year, when directors Abbas-Mastaan decided to helm a sequel to their ridiculously popular thriller, 'Race', at the behest of Saif Ali Khan, the makers were also convinced that Kareena Kapoor would be the ideal choice to add some sizzle to the stylish film.

In fact, IANS quoted Khan, who was engaged to the actress at the time, as saying: "Yes, Kareena will be part of 'Race 2'. We're yet to flesh out the details."

A year, a flop and a marriage later, Kapoor's only link-up with the film is a husband as its lead star and her regular presence on the sets to keep him company.

What went wrong, you wonder? Well, the Khan-produced 'Agent Vinod's' abysmal box office collections may have something to do with that decision, which saw the duo star together in a spy thriller.

Quiz the Nawab of Pataudi about the decision to drop Kapoor from 'Race 2' to make way for Deepika Padukone and the actor simply said: "The filmmakers wanted a 'hit' film. Casting us together would have been a sure-fire way to see 'Race 2' flop."

Knowing Khan, one could probably brush off the strange comment as a gooseberry, but the actor claimed he was dead serious.

He told Emirates 24|7 in a candid chat last week, when he was in Dubai to promote the thriller that releases in UAE cinemas on January 24, that it wasn't a jest by a long shot.

"Kareena and I can never make a hit film together if we are cast opposite each other," he reiterated. "The problem lies in our level of comfort with each other.

"Comfort is the enemy of chemistry."

He further explained: "Strangers can share sizzling chemistry onscreen; that tension is the key element in cinema. If two people are so comfortable with one another, like Kareena and myself, that build-up in character simply does not exist."

His frank statement is lent credibility looking at their on-screen pairings since the duo became a couple, with both 'Kurbaan' and 'Agent Vinod' tanking at the box office.

The celebrity couple, often called 'Saifeena' by the press as a take on Hollywood's 'Brangelina', tied the knot last October amidst media frenzy that lasted weeks.

A lot of speculation made headlines, one of which being that Kapoor may retire from acting as her official role as the new Begum of Pataudi, especially gyrating to 'item songs' that have minted her millions in the past few years in stage performances.

However, a month post the marriage and Kapoor was back on screen with the smash-hit song from 'Dabangg 2', that saw her pelvic thrust to the ridiculous, yet catchy, lyrics in 'Fevicol Se'.

Khan, of course, said he supports her 100 per cent and is confident that her acting career won't take a hit post marriage.

This is a far cry from his statements to this reporter three years ago when the question of marriage loomed in the horizon.

Point it out and he doesn't deny his insecurities for her.

"Back then, while we had just shot 'Kurbaan', I think cinematic mindset had yet to take that additional step in showcasing women-oriented films," he explained. "But these past few years have changed all that.

"Today, I am confident that an actress in Bollywood can stay at the top despite being married."

And what about him? Have screaming female fans now moved on to the next single heartthrob in Bollywood?

"My career remains unaffected as well," he said. "However, I will say that a man should settle his home first and then move on to other things such as career. I am a settled man today.
MUST SEE:
Filmfare red-carpet exclusive images: Bollywood beauties' fashion highs and faux pas
Dressed for success: Winners on Filmfare red carpet
Filmfare Awards complete list... Vidya's 'Kahaani', Ranbir's 'Barfi!' rule
Follow Emirates 24|7 on Google News.