Kareena's next not with Salman, SRK but with Aamir Khan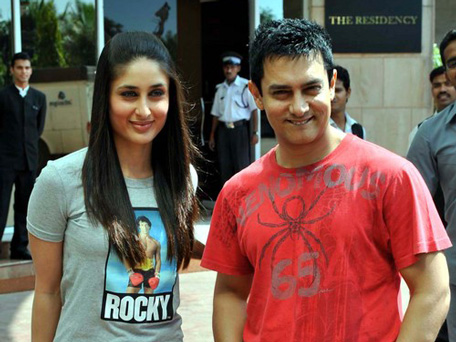 There is one actress in Bollywood who is completely a Khan heroine be it Shah Rukh Khan, Salman Khan, Aamir Khan, Saif Ali Khan or Imran Khan. Whew!

We are talking about Kareena Kapoor (Khan!) who has acted with every big Khan actor in the Indian film industry and has few more in the pipeline.
Director Punit Malhotra has started shooting for his upcoming film 'Gori Tere Pyaar Mein' starring Kareena and Imran Khan. The two are back together after
the romantic comedy 'Ek Mein Aur Ekk Tu'.
According to Bollywood Mantra, filmmaker Mani Ratnam has roped in Aamir Khan for his next project. And guess who the heroine - Kareena Kapoor is.
It will be a bilingual movie, Hindi and Tamil and the film will be based on India-Pakistani partition. Rensil D'Silva who has wrote the story of super-hit 'Rang De Basanti' for Aamir Khan will script the movie.

After a couple of non-performer in the Box Office, Mani Ratnam wants to make a grand comeback by casting the two most popular actors of Bollywood.
The filmmaker has started to work on the project and the film is expected to go on floor very soon.

This will be Aamir's first movie with Mani Ratnam but Kareena has worked in his film 'Yuva' before which was a box-office hit.
After '3 Idiots' and 'Talaash', this would be Aamir Khan and Kareena's third film together.

So Kareena and her Khan legacy continuous, not that anyone doubted it, after all she is married to a Khan - Saif Ali Khan.
MUST READ:
Mummy fitness fight: Shilpa Shetty beats Aishwarya Rai
Queen hospitalised; Kate, William, Harry enjoy wedding party
Heroines at war: Katrina Kaif versus Priyanka Chopra
Follow Emirates 24|7 on Google News.