Karisma Kapoor's divorce case gets ugly - accusations, mudslinging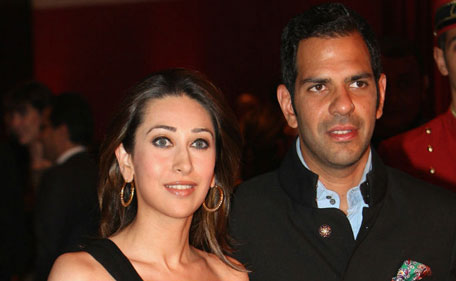 At the peak of her career Indian actress Karisma Kapoor tied the knot on September 29, 2003 with industrialist Sunjay Kapur.
To many industry insiders, it looked like the actress had married on the rebound. She had just broken off her engagement with Abhishek Bachchan and she was hurting.
Karisma with father Randhir Kapoor. (Sanskriti Media and Entertainment)
Now when her father Randhir Kapoor in a statement says, "From day one, I was against Karisma marrying Sunjay."
After staying separate for years the couple filed for legal separation on May 23, 2014.
The two are right now in the centre of a court battle for the custody of their two children, Samaira and Kiaan.
Their impending divorce is just getting ugly by the day and has opened up a new can of worms.
In the latest turn of events, Sunjay's fresh petition claims that the actress married him for money.
According to a report in Mumbai Mirror, the Delhi-based industrialist has claimed in a fresh divorce petition filed, that Karisma married him just for his money.
The petition also suggests that Karisma married Sunjay on the rebound in 2003 after her break-up with Abhishek Bachchan, and portrays her as the culprit in the troubled 11-year-long marriage with Sunjay.
Sunjay has claimed that Karisma used their kids as 'pawns' and didn't let the Kapur family meet them frequently in her bid to claim more money.
The petition by Sunjay goes on to say that Karisma even 'cruelly deprived' Sunjay's ailing father access to his grandchilren, and he passed away six months ago 'while pining for them'.
Karisma with her children Samaira and Kiaan. (Sanskriti Media and Entertainment)
According to the same report, Karisma's lawyer termed Sunjay's accusations atrocious and false and will be telling the court that he is causing great harm to the children's welfare by spreading false stories.
Needless to say, Karisma's family believes it is a very serious accusation to make.
Times of India quotes Karisma's father, "The whole world knows what kind of people they are. The fact that my daughter is getting a divorce is because we are not happy with that family. This third-class behaviour is expected only from a third-class person like Sunjay Kapur."
He also went on to accuse Sanjay of 'living with another woman'.
Follow Emirates 24|7 on Google News.