Kate Hudson's brother 'excited' for her pregnancy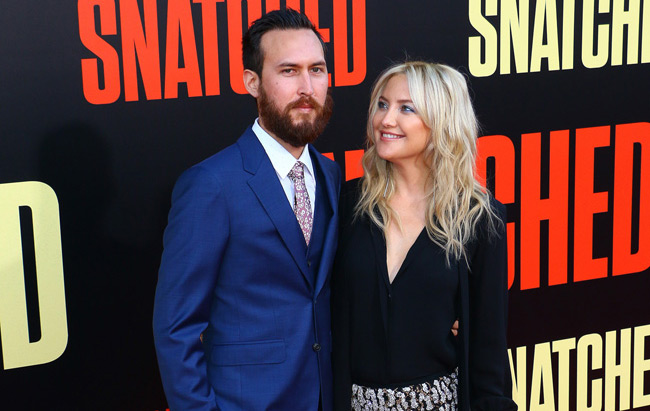 Kate Hudson's brother Oliver is so happy for his sister after she revealed she is expecting a baby girl with her boyfriend Danny Fujikawa.
The 39-year-old actress revealed last month she was expecting her first child with boyfriend Danny Fujikawa, and the news was made even more sweet as she learned that after having two boys - Ryder, 14, and Bingham, six - from previous relationships, she was finally going to have a baby girl.
Now, her older brother Oliver has recalled the manic moment during Kate's gender reveal party, when the family popped black balloons containing pink confetti, signifying she is carrying a daughter.
He said: "I was there! I had no time to react because Bing, her other kid, had a knife in his hand - he was popping the balloon and I was holding him.
"The balloon goes boom and it's a girl but then Bing is sort of running with a knife and I'm like, 'Get over here!' And trying to get the knife, so I had no time to actually celebrate until maybe 15 seconds later. I was super excited. We are all so happy it's a girl!"
Kate has wanted a daughter for some time, and the former 'Scream Queens' star - who is father to sons Bodhi, eight, and Wilder, 10, as well as daughter Rio, four - has said she "loves" to spend time with her niece.
Oliver added to People magazine: "She loves my daughter and is with my daughter all the time. Rio is sleeping over at my sister's house all the time.
"Rio looks up to her because my sister is a dancer and a performer and that's all my girl wants to do and be. Auntie Kiki is what she calls her, and it's all about Auntie Kiki. There is literally no advice I could [give] her. She's ready."
His comments come after their fellow sibling Wyatt Russell also gushed over his sister's pregnancy, and said she was "really excited" to give birth to her first daughter.
He said: "I was happy. I was teary-eyed because I know how badly she wanted a girl. I know Danny, I'm sure in some part of every man's brain you're like, 'I'd love to have a little me.' But when he met my brother's little girl Rio [Hudson], who's the cutest thing in the entire world, she made him be like, 'Okay, I want a girl.' So they're really excited."
Follow Emirates 24|7 on Google News.