Katrina Kaif got Ranbir Kapoor, but lost Salman Khan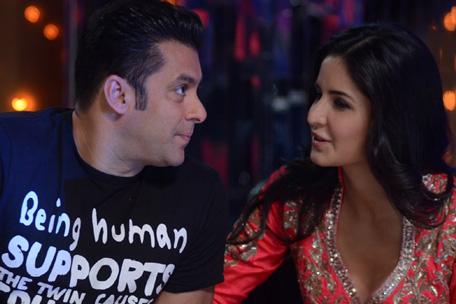 Bollywood actress Katrina Kaif seems to be a perfect example for the adage 'You win some, you lose some'.
Here's why.
Superstar Salman Khan reportedly wants to work with Deepika Padukone in his upcoming film with director Kabir Khan.
After failing to work with the 'Chennai Express' actress in Sooraj Barjatya's film, Salman is now keen on signing her in Kabir's next directorial venture which is likely to take off in 2015.
However, the news certainly comes as a surprise since Kabir's first choice has always been Katrina Kaif.
The 'Dhoom 3' actress has featured in the director's past films 'New York,' 'Ek Tha Tiger' and also stars in his upcoming action flick 'Phantom'.
There is buzz that Salman Khan is done with his ex-girlfriend and not willing to work together.
So a Salman-Katrina movie is not happening any time soon.
Katrina had recently stated that she is still in touch with Salman and the superstar is just a message away.
But Salman's insistence on working with Deepika instead of Katrina is sure to set records straight.

After boosting Katrina's film career Salman is now letting go of the actress.
There is no denying the fact that Salman has played a huge role in Katrina's stardom. After all, with a disastrous debut film like 'Boom' and with her terrible Hindi, it would have been impossible for her to make a mark in the industry without help from the Khan.

Katrina Kaif has come a long way in Bollywood but Ms Kaif isn't happy being called Salman's 'protégé'. She firmly believes that where she is now is all to her own credit.
Well, Katrina is on her own now.
Bollywood actor Ranbir Kapoor and Katrina Kaif leave for New Year holiday. (SANSKRITI MEDIA AND ENTERTAINMENT)
But this friendly divorce with Salman Khan should not bother Kaif since she is still clinging on to her priced possession - Ranbir Kapoor.
Ranbir Kapoor and Katrina Kaif have been the talk of the town for the entire 2013 with people speculating about their relationship.
Their PR team has also done a marvelous job in keeping the buzz around them bustling.
However, the duo has always kept the media guessing their equation.
Pictures of Ranbir Kapoor and Katrina Kaif holidaying together in Spain brought the curtain down.
The couple was snapped enjoying at the beach together in their swimwear last year. The incident set a lot of tongues wagging and the duo realised there was no good in denying anything anymore, with pictures speaking a thousand words.
And before anybody could even confirm the couple happily dating, talks of trouble in paradise started doing the rounds. But Ms Kaif is not letting the Kapoor boy go. Both are working on their relationship and planning a quick vacation in Sri Lanka where Ranbir is shooting his next.
Katrina and Ranbir will also come together in Anurag Basu's next directorial 'Jagga Jasoos'.
Hope after Salman, Katrina finds her anchor in Ranbir.
Follow Emirates 24|7 on Google News.